Tyrone boss Moane looking to forward power
August 18, 2018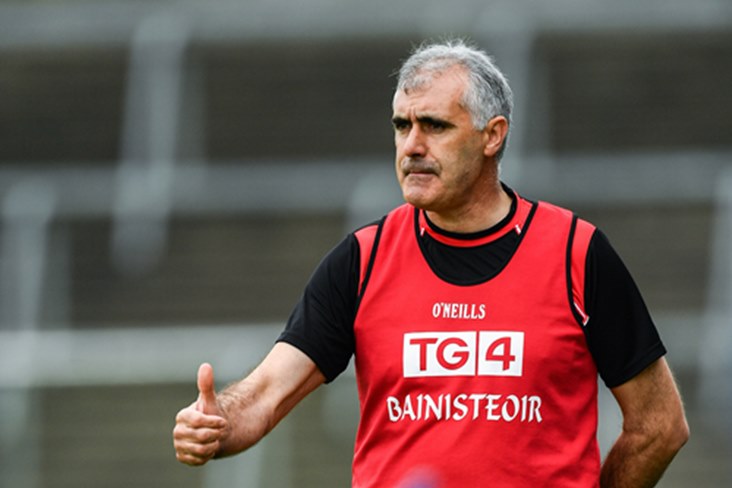 Tyrone ladies manager Gerry Moane
by Declan Rooney
Tyrone manager Gerry Moane is hoping that his on-song forward line can fire his side to victory over Sligo and into a second TG4 All-Ireland Ladies intermediate football final in a row.
The sides meet in the last four of the competition in Ballyshannon this afternoon (4pm) and the winners will face Roscommon or Meath in the final at Croke Park on September 16.
Victory over Wexford in the quarter-final propelled Moane's outfit into the next round, but after a summer of high-scoring exploits, he was relieved to just get over the line against the Leinster girls.
In their four previous championship games this summer, Tyrone have fired a stunning 25 goals and 79 points, and they had to be satisfied with a more normal 1-15 tally last time out. Moane wants to see a return to maximum efficiency this weekend against the Yeats girls.
"It was a good tight game, but Wexford got a penalty in the fourth minute of injury time and it put a bit of a gloss on the scoreline. But we were wasteful in the last 20 minutes being truthful," said Fermanagh native Moane.
"It is disappointing, but that's football. Let's give credit to Wexford, they were a very physical well organised team. They died with their boots on and gave it everything.
"But our forwards have been going well. Sometimes it has to do with the opposition and defensive set-ups. Our conversion rate is something we've been working on, we always create a lot of chances but we haven't been clinical. That cost us last year."
Twelve months ago Tyrone seemed poised to claim a spot in the senior ranks for the first time since they were regraded as intermediate in 2016, but a three-point defeat to Tipperary ended their hopes of rejoining the top flight.
Moane is of the opinion that the better team won last year, but he admits the setback has fuelled his troops since then.
"It's not fresh in the mind, but if you were to look back on the tape...the first six or eight minutes you'd never know what would happen. We should have had scored 1-4 or 1-5 in that time but it didn't happen on the day for us.
"Blame whoever you want but if you're not clinical in any game, if you can't take your scores, it's down to yourself."
Sligo have recovered from a disappointing Connacht final defeat against Roscommon and registered wins over Laois and Longford in Group 1, before they bettered Wicklow in the last eight. Having beaten Paddy Henry's side at the same stage last season, Moane is well versed on their dangers.
"We don't overlook any opposition and we certainly won't do that with Sligo," he said.
"They have brought a few experienced players back: Stephanie O'Reilly and Noelle Gormley will bring a lot of experience to the side and it showed the last day against Wicklow and they were clinical early on."
Sligo: N Gormley; A Morrisroe, E Codd, C Dunne; G O'Loughlin, L Boles, K.A. Henry; S Regan, N Brennan; L.A. Laffey, S O'Reilly, S Naughton; E O'Reilly, K Walsh, D McGrath.
Tyrone: L Kane; N McGirr, J Barrett, C Conway; S McCarroll, C Hunter E Brennan; N Woods, E.J. Gervin; N Hughes, M Canavan, Á Canavan; G Rafferty, G Begley, C McCaffrey.  
Most Read Stories