10 years on, Cavanagh set for second All-Ireland final appearance
August 12, 2018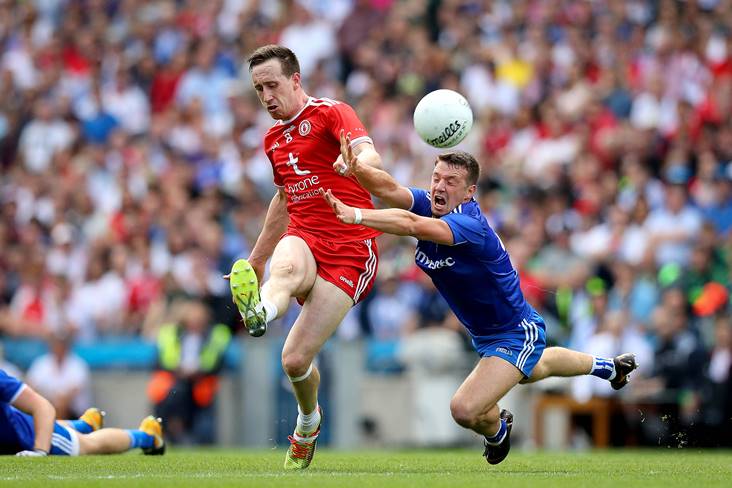 Monaghan's Ryan Wylie and Colm Cavanagh of Tyrone.
INPHO/Ryan Byrne.
Colm Cavanagh is looking forward to experiencing the unique atmosphere of All-Ireland final day for the second time in his inter-county career.
The Moy clubman featured as a substitute in the 1-15 to 0-14 victory over Kerry a decade ago and he admits that back then he never thought he would have to wait so long for the opportunity to present itself again.
"It is unbelievable," he remarked to Sky Sports before being presented with the 'man-of-the-match' award.
"I came into the set up in 2007 and after winning the Al-Ireland in 2008 thought 'happy days - we are going to have these days year in and year out'.
"But it's been a long, long time of fighting and a lot of work done."
Cavanagh and his team-mates had to work hard to see off Monaghan at GAA HQ today with Niall Sludden's goal edging them over the line.
"Monaghan were on top for a while, then we were on top for a while. The goal gave us a bit of comfort near the end.
"I think we were wasteful near the end. We were three points up and probably should have retained possession. Our game management wasn't how it should be.
"Monaghan came back and got the scores and we had to ride our luck near the end."
Most Read Stories