McEntee: you just have to keep at it
May 23, 2018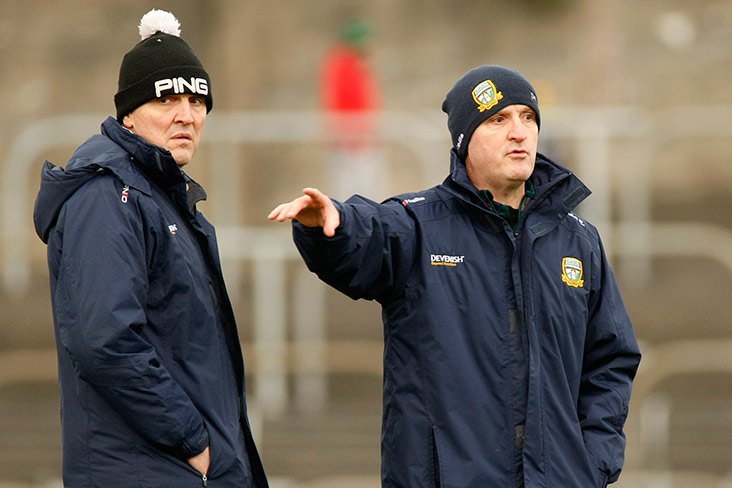 Meath selector Gerry McEntee with manager Andy McEntee
Restoring Meath as a footballing force to be reckoned with is top of Andy McEntee's agenda.
The Royal County's slide down the ladder since the heady days of the eighties and nineties has been well documented and they face a tricky assignment away to Longford in Sunday's Leinster SFC quarter-final.
Standing beside him on the Glennon Bros Pearse Park sideline this weekend will be his older brother Gerry who was a mainstay of the 1987/'88 All-Ireland winning team.
"People forget that for a long time that Meath team couldn't beat Dublin. Meath didn't win a Leinster title from 1970 to 1986, 16 years," McEntee pointed out to gaa.ie.
"They won a National League in 1975 when Dublin were All-Ireland Champions. Lost the first round of Leinster to Louth in 1975. Lost to Dublin in '76 and '77 (in Leinster Finals).
"Went to a stage where Meath lost the first round of Leinster in '81 and '82 to Wexford and Longford.
"So, I mean, we've been here before. And every county gets a phase where you're just not as successful and you just have to keep at it.
"Look at that team of the late eighties. Everyone would say they were hard-nosed fellas who knew how to win. They knew how to lose for a long time too. That's probably what made it more valuable when they did start winning.
"I'd like to think that we could find ourselves in a situation where all the experience that lads have gained, good or bad, will stand to them at some stage."
Most Read Stories