Five instances where managers let rip…
May 17, 2018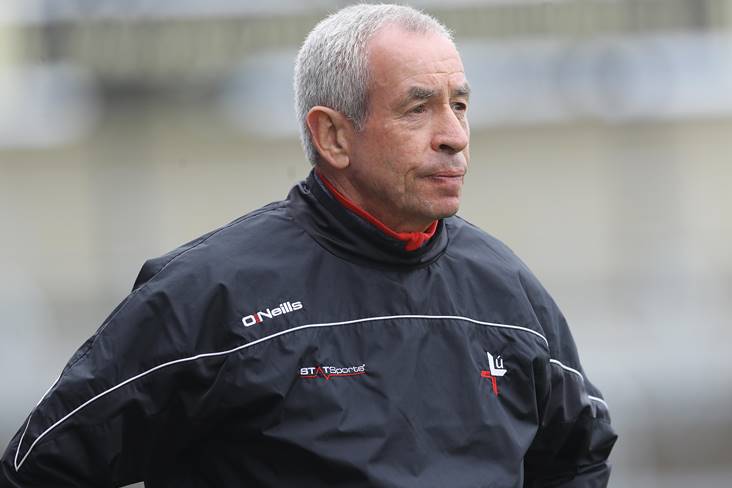 Louth manager Pete McGrath.
©INPHO/Lorraine O'Sullivan.
Pete McGrath's eyebrow-raising outburst after Louth's meek surrender to Carlow on Sunday was certainly not unique in the history of the GAA.
While intercounty managers are almost invariably loathe to criticise their players in public, sometimes their emotions get the better of them and they call it as they see it, be it interpreted as a kneejerk reaction, a spur-of-the-moment outburst or a refreshingly honest dropping of the guard.
1. Peter McGrath (Louth)
Down legend McGrath's frustration at the weekend was palpable. During the game, Wee County attacking great Stefan White was highly-critical of the Louth players' lack of passion and quality during the live radio broadcast on LMFM and the losing manager clearly cut a dejected figure when the final whistle sounded. The nature of his team's complete surrender against the Barrowsiders was such that McGrath was understandably wondering what he had gotten himself into.
He stopped short of expressing regret at taking the job, but only just… "You don't regret it, but you say, 'I have maybe made better decisions in my life'." The Down man found himself unable to spare his troops, pointing out that "serious questions have to be asked about players and their attitude and their ambition and what they hope to achieve as individual players", describing the second-half no-show as "very, very, very poor, very disappointing and exceptionally discouraging." Not about to hold back, he said the situation was "very gloomy, very discouraging and it's very hard to see a way out of it".
2. Babs Keating (Offaly)
One of the most infamous examples of an intercounty manager throwing his players under the bus came twenty years ago, in 1998, when Tipperary legend Michael 'Babs' Keating lambasted the Offaly hurlers following their Leinster SHC final defeat to Kilkenny.
Keating, who had also publicly criticised the Laois hurlers during his term at the helm there, said that the Faithful County players "just aren't listening to me. We're like sheep running around in a heap ... I just wonder am I wasting my time in an Offaly dressing-room ... the players just sail along."
His position untenable, Keating was let go mid-season by Offaly. His successor, Michael Bond, subsequently guided the midlanders to their fourth All-Ireland courtesy of a quarter-final defeat of Antrim, a semi-final replay, refixture win over Clare and an incredible six-point victory over none other than Kilkenny in the All-Ireland final. Ironically, Keating's harsh words ultimately had a positive impact!
3. Richie Bennis (Limerick)
These outbursts seem to come every ten years. In 2008, Limerick hurling boss Richie Bennis claimed that his players had "left me down". In the wake of the Treaty County's humiliating ten-point Qualifier defeat to Offaly, Bennis said that the players in question would never feature on a team he picked again:
"I accept the blame and hold my hands up but I think some players left me down. To me, it appears this year at least six or eight players treated it as a social event, coming to training on Tuesday and Thursday nights - they broke their hearts in training and then they went drinking. I heard the rumours and it is quite possible a few of the players were drinking and they played accordingly. It's time to call a spade a spade. I have given 24-7 to this set-up and if I am there next year, I can tell you those fellas who let me down will not be considered."
Bennis' spell as manager of his native county was over within a month.
4. Paidi Ó Sé (Kerry)
Paidi's unbelievable outburst in 2003 was not aimed at his players but at the Kerry supporters. In January of that year, still stinging from the previous September's All-Ireland final defeat to Armagh, Ó Sé conducted an interview with The Irish Independent where he famously declared that "being a Kerry manager is probably the hardest job in the world because Kerry people, I'd say, are the roughest type of fucking animals you could ever deal with. And you can print that."
Paidi stayed on as Kingdom boss that year, despite the furore, and he led Kerry to a seventh Munster SFC title in eight years but they were beaten by Tyrone in their All-Ireland semi-final.
5. Brian Cody (Kilkenny)
Unsurprisingly, Brian Cody came with a much more diplomatic and successful approach when he criticised his players following their national hurling league defeat to Clare in February. The Cats had already lost their opener to Cork and suffered a 2-18 to 1-18 loss at the hands of the Banner in Nowlan Park.
Cody was critical of his players but he did so with restraint: "We made mistakes in the first half. Mistakes are just part and parcel of the game. But we upped our effort in the second half and you'd have to ask why our effort needed to be upped. It shouldn't need to be, of course. But that's hurling and things go funny sometimes."
Stung into action, the Black & Amber came from nowhere to win six games on the bounce and lift the league title, which just goes to show that criticism of players by management has its place in sport if delivered subtly.
Most Read Stories