Hyland not a fan of Ulster's preliminary round
April 17, 2018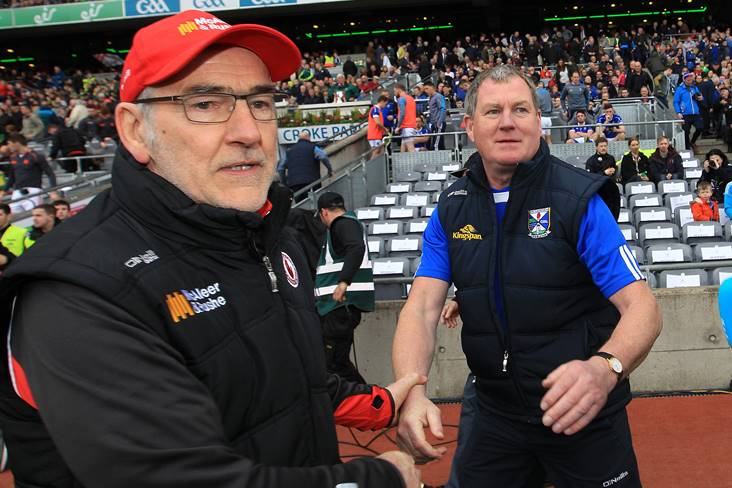 Tyrone's Mickey Harte and Terry Hyland of Cavan shake hands after the game ©INPHO/Lorraine O'Sullivan
Former Cavan manager Terry Hyland admits there are few positives to being pitted in the preliminary round of the Ulster SFC.
With nine teams competing for the Anglo-Celt Cup every year, seven advance directly to the quarter-finals, while the unfortuate odd two are asked to play an extra game. Only four have taken the longer four-match route to provincial glory!
During his five seasons in charge of the Breffni County, Hyland was involved in the preliminary round twice. Indeed, Cavan have been there seven times since the start of the millennium - including this year's championship (against Donegal on May 13th).
As of 2020, a county that has played in the dreaded preliminary round the previous summer will be exempt from it for the next two seasons. Hyland welcomes the change:
"I would say the negatives outweigh the positives to be honest with you," Hyland comments in The Irish Daily Mirror. "I don't think there's anybody would say there's too many positives in the preliminary round.
"Technically you're still in the first round afterwards. You're just back into the championship. Okay, you've a game under your belt but at that stage you could end up waiting another three to four weeks for your next game.
"It's like everything else, if you can do something in three games, why would you want to do it in four?"
Most Read Stories