FL3 round-up: Orchard up, Model down
March 18, 2018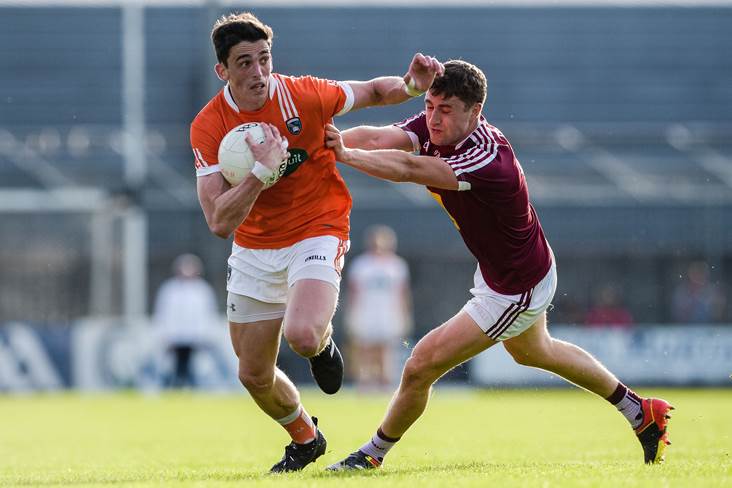 Westmeath's Kelvin Reilly with Rory Grugan of Armagh.
©INPHO/Tom Beary.
Armagh have secured promotion to Division Two with a game to spare, while Wexford are the first team relegated to the bottom tier.
The Orchard County dropped their first point of the campaign this afternoon when Fermanagh held them to a 0-7 each draw at Brewster Park, but Kieran McGeeney's charges are now sure of promotion regardless of what happens in the seventh round.
Substitute Daniel Teague and Aidan Breen were sent off for Fermanagh, while Armagh lost Paddy Burns to a second yellow card in added time.
With scores hard to come by, Seamus Quigley drilled over five Fermanagh frees and Rory Grugan landed three for the Ernemen, who have kept themselves very much in the promotion race ahead of their Round Seven meeting with Longford, who today recorded a stunning 1-16 to 1-12 victory over 13-man Westmeath at Pearse Park.
The Lake County had John Egan and Jamie Gonoud sent off as their promotion hopes effectively went up in flames.
Conor Berry netted for the winners after Ger Egan had punched the opening goal of the game. Longford's win leaves them level with Fermanagh on the table on nine points apiece, which means Sunday's clash at Pearse Park is a promotion shoot-out.
Wexford are relegated after suffering a 2-20 to 3-8 defeat to Derry at Celtic Park, where Padraig McGrogan and Emmet Bradley netted for the hosts before the break.
The game between Offaly and Sligo, who are in a relegation battle along with the Oak Leaf County, fell foul to the weather and has been refixed for tomorrow.
Fermanagh - P Cadden; M Jones, C Cullen, C McManus; B Mulrone (0-1), K Connor, J McMahon; D McCusker, E Donnelly; R Jones, C Corrigan, A Breen (0-1); P McCusker, C Jones, Seamus Quigley (0-5f). Subs: T Corrigan for C Jones, D Teague for P McCusker, E Maguire for C McManus, R Corrigan for C Corrigan.
Armagh - B Hughes; P Burns, O Lappin, B Donaghy; C Vernon, G McCabe, R Kennedy; S Sheridan (0-1), B Crealey; A Forker (0-1), R Grugan (0-3f), N Grimley (0-1); C Watters, A Murnin, O MacIomhair (0-1). Subs: N Rowland for O Lappin, A Findon for S Sheridan (BC), A Duffy for C Watters, R Lappin for R Kennedy, M Stevenson for O MacIomhair.
Referee - B Cassidy.
**
Longford - P Collum; P Fox, P McCormack, B McKeon (0-2); D Masterson (0-1), D McElligott, B Gilleran; D Gallagher (0-1), D McGivney (0-3, 2f); D Mimnagh (0-1), C Berry (1-2), D Reynolds (0-1); R Smyth (0-2, 1f), A Farrell (0-1), R Brady (0-2). Subs: P Gill for A Farrell, P Foy for B Gilleran, J McGivney for D Reynolds, D Quinn for J McGivney (BC), M Nally for D Gallagher, S Donohoe for D Masterson.
Westmeath - E Carberry; M McCallion, F Boyle, J Gonoud; N Mulligan, A Stone, J Dolan; D Corroon, J Heslin (0-5f); K Martin (0-2), G Egan (1-0), L Loughlin (0-3); J Egan (0-1), C McCormack, R Wallace. Subs: J Connellan (0-1) for A Stone, D Lynch for N Mulligan, R O'Toole for C McCormack, B Sayeh for F Boyle.
Referee - J Henry.
**
Derry - B McKinless; R Mooney, K Johnston, C McCluskey; K McKaigue, C McWilliams, P Hagan; C McAtamney (0-6), E Bradley (1-1); E Lynn (0-2), B Heron (0-1), P Cassidy (0-1); P McGrogan (1-1), M Lynch (0-3), N Toner (0-2). Subs: S McGuigan (0-2) for B Heron, D Tallon for M Lynch, T O'Brien (0-1) for E Bradley.
Wexford - C Swaine; C Carty, J Rossiter, M Furlong; G Malone (0-1), N Rossiter (1-0), S Doyle (1-0); N Doyle, B O'Gorman (0-1); E Nolan (0-1), J Stafford, R Frayne; B O'Connor (0-4), A Nolan, J Tubritt. Subs: D Shanley for J Tubritt, T Rossiter for N Doyle, M O'Neill for J Rossiter, P Curtis (1-1) for R Frayne, D Holmes for B O'Gorman, M O'Connor for S Doyle.
Referee - E O'Grady.
Most Read Stories