Tipp bid farewell to hurling legend Mick Roche
December 07, 2016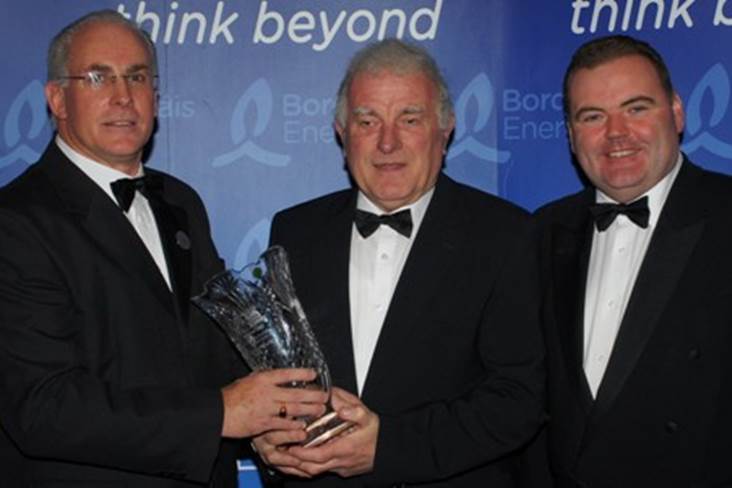 Mick Roche accepts his Hurling Hall of Fame award from Munster GAA in 2010.
Pic credit: Munster GAA.
Tipperary hurling, and the GAA in general, has lost a legend today with the sad passing of Mick Roche.
Renowned as one of the greatest ever centre-half-backs to grace the hurling fields, the Carrick Davins player represented the Premier County 27 times on championship duty during an 11 year stint in the county's colours.
His medal haul included 3 All-Ireland SHC, 5 Munster SHC, 3 NHL and 2 Tipperary SHC souvenirs.
He brought the curtain down on his illustrious inter-county career after the 1974 championship campaign.
A resident of the Horse and Jockey, Thurles, Mick Roche was 73 years of age.

Here's a profile of the great Mick that was published in Hogan Stand magazine back in February, 1996... 
Mick Roche was among the truly great centre half backs
Some of his Displays were the best of his era. The Carrick man was a Genuine Star.

Star. How the word is bandied about. You only have to get on the county team these days and you're a star. Overused and abused. There are some footballers and hurlers around who merit the description but not nearly so many as the commentators would have us believe. Mick Roche was a star. A bright shining star in a hurling era when there were quite a few about. And there are those who claim that he was the best centre half back of them all. Perhaps. The men who sat down to pick the "Team of the Century" in 1984 had quite a task. In the end, Waterford's John Keane was named in the No 6 jersey there's little doubt that Mick Roche, Tony Wall, Bobby Rackard, Pat Henderson and a host of heroes from the Association's earlier days were in contention. The man from Carrick on Suir can't have been too far away.

There are individual performances which will forever remain engraved in the memories of all who were privileged to witness them. Some will not have received as much publicity as others such matters depend on the importance of the game. Who will ever forget Willlie Bryan's brilliant performance for Offaly against Kerry in the 1972 All-Ireland final replay Joe Cooney for Galway, Flynn against Down in 1991, Mickey Sheehy on more than one occasion, Frank Cummins in the 1983 final against Cork. I could go on and on. The performances mentioned are just some of the individual displays that spring to the mind of this observer. I can only think of one man who would make the list for three displays of the best possible quality.

In the first half of the 1968 All-Ireland final against Wexford, the Tipperary captain gave an exhibition of centre-half-back play. His immediate opponent was a "rookie" by the name of Tony Doran but such was Roche's dominance that the Tipperary forwards saw enough of the ball to build a seemingly unassailable lead. The Wexford mentors switched Jack Berry to the '40. It made little difference. Roche continued to hurl majestically and the Premier County led by 1-11 to 1-3 at the interval. The lead should have been substantially more. The Wexford selectors acted again at the break. Paul Lynch was brought in from the wing to try to curb the Carrick defender. Roche had controlled the first half, taking virtually every ball that came down the centre. Wexford began to play the wings and gradually isolated the Tipperary captain. The rest is history. For the first time ever, Tipperary had lost successive All-Ireland finals and unfortunately, Mick Roche was the captain on both occasions.

Then there was the Munster final of 1971 played in a down-pour in Killarney. Limerick led by a fully deserved margin of six points at half but throughout the second half Tipperary's No.6 hurled with all the will and determination that had been part of Tipperary's formidable armoury in the great years of the 1950s and 1960s. In the end a late, late point from the late John Flanagan secured victory for the Premier County in one of the most memorable Munster finals. The third great display from Mick came in the subsequent All-Ireland final against Kilkenny. It was an eighty minute final and Mick must have been glad of the additional time. In truth, his first half display was, to put it mildly, disappointing. His judgement, timing and pace seemed to be lacking and his opponent Pat Delaney had an obvious edge.

Thirteen minutes into the second half the selectors decided to switch Mick to the centre field position where another Carrick man, PJ Ryan provided the support which saw Tipp withstand a late Kilkenny rally. Pat Lalor and Frank Cummins were just beginning to dominate when Roche's switch swung the balance back in Tipp's favour. It seems quite amazing that despite his fame and renown as a centre-half back, Mick Roche never actually liked the position. His ideal place was at centre-field and it was there that he first represented the county. Nevertheless, it's as a No 6 that he will be most fondly remembered by Tipperary supporters.

Mick was born in Carrick-on-Suir in 1943 and as the river forms part of the Tipperary Waterford border in the town, Mick was brought up in the Carrickbeg parish where the local club participates in the Waterford Championship. And he won a Waterford Minor Championship medal in 1959. He went for a trial with Decies Minors the following year but wasn't selected on the county team. If he had been selected would the course of Decies hurling have changed? Mick's father was a founder member of the Carrick Davins club and had played football for the Premier County. It was always on the cards that his son's loyalty would be to the blue and gold.

In 1961 he made the Tipperary Minor team and while he collected his first Munster Championship medal, Tipp were beaten by Kilkenny in the All-Ireland final. But All-Ireland medals were not long in coming. Two years later Tipp won the All-Ireland Intermediate Championship with the young Carrickman playing a leading role. He was also a sub on the Senior team in '63 and could have missed out on the Intermediate medal but for the vigilance of the trainer of that team. The Senior decider against Waterford was played in Limerick and with Tipp struggling, young Roche was a candidate to enter the fray for the second half. However, Jim Stapleton intervened to protect his intermediate squad and that was it. The Seniors were beaten by three points.

In 1964, Mick's career continued on an upward spiral with a double cause for celebrationvictory in the inaugural All-Ireland Under 21 Championship and a first medal at Senior level when he lined out at centre-field alongside Theo English as Tipperary cruised to an emphatic win over Kilkenny. Within three minutes of the re-start, Tipp's interval lead of five points had been reduced to just two, but they pulled away to establish a fourteen point winning margin, 5-13 to 2-8. It was a particularly strong Tipperary team and they were winning the Liam McCarthy Cup for the third time in four years. Mick Roche and Babs Keating were the newcomers and they were back again twelve months later to make it four All-Ireland victories in five years when they beat Wexford by twelve points.

In those days, training was not a major problem and while there has been a great deal of comment this year on Clare's early morning sessions, Mick Roche often rose at dawn to get in some training before he would go to work. The team sessions required that players would arrive in peak condition for the cut and thrust of ten-a-side games. Carrick Davins had succeeded Thurles Sarsfields as county kingpins and Mick was made captain for the 1967 campaign. They defeated Clare by double scores to regain the Munster title (Cork had won provincial and All-Ireland titles in 1966) and with John Doyle going for a record ninth medal, they were warm favourites to account for Kilkenny. There were a number of reasons for Mick to feel confident about taking the Liam McCarthy Cup to Liberty Square.

It was only three years since Tipp had demolished their neighbours' challenge with a fourteen point winning margin Kilkenny had not beaten Tipp in the Championship since 1922, Cork had come from nowhere to beat the Cats twelve months previous and then there was the John Doyle factor. It was all going according to plan at the interval when the Munster champions led by six points: perhaps the signs were ominous, Kilkenny had played the better hurling against the breeze. Second half goals by Tom Walsh and Mick Brennan wiped out the deficit and the black and ambers were not flattered by their four point winning margin. It was the end of an era.

Tony Wall announced his retirement and Tipperary were without a centre-half back. In the dressing room before a subsequent Oireachtas Cup game in Thurles, Mick's club colleague, Paddy Kenny, a team selector, asked him to man the No 6 jersey in the emergency. Incredibly, Mick never again played for Tipp in his favourite centre-field position and this despite a proverbial "roasting" from Claus Dunne in that first game at No 6. The selectors persevered despite the fact he never felt comfortable in the position. He was captain again in 1968 for the aforementioned final against Wexford but he had to wait until three years later to collect his third All-Ireland medal with that win over Kilkenny. His performances in 1971 earned him selection on the first All-Star team.

By the time Tipp and Limerick faced each other in the Munster final of 1973, Mick had been switched to the centre-half forward position with Tadhg O'Connor taking over at centre-half-back. Tipp scored 2-18 but conceded six goals and Limerick emerged victorious by a point they went on to win the All-Ireland. It was a last hurrah for the Carrick Davins man who retired in the following year at the age of 31.

Training had become a chore and the enthusiasm had gone." As a company representative he was continuously driving and the miles began to clock up in more ways than one." I didn't enjoy winter hurling and I felt it was time to call it a day." Unlike many's the former star, Mick Roche believes that the current standard of hurling is very high, "it's faster and more skillful. The removal of the third man tackle has been a great help and when the game is played properly, there's nothing to match it. If I have any regrets about the modern game it's that the striking may not be as crisp or of the same quality while overhead hurling has completely disappeared." He is also complimentary in the role of television in improving standards. "Television has helped enormously to clean up the game and with widespread coverage, a player is less inclined to act rashly. And that's the way it has to be. Youngsters are not going to be attracted to the game if there's danger involved and there's no doubt that the game is becoming "cleaner" all the time."

And what are his views on the proposals of Croke Park's Hurling Work Group? "I am very much in favour of the proposals they contain conditions in fact, I would go further and extend the close season substantially. In doing this, I am principally thinking of the game itself, not the players or the spectators, or the officials but the game of hurling. It is not suited to winter conditions full stop. I never liked playing in the winter and refused to play in the League on a number of occasions. There's plenty of time to play the games in the summer not enough use is being made of Saturday evenings. I am aware of the problems with the clubs but surely the club fixtures can be accommodated with a bit of serious planning. My contention is that hurling has to be played on a suitable surface especially if we hope to attract youngsters into the game. It is far easier to play soccer in such conditions and that is why we are struggling for the youth."

On Tipperary's prospects for 1996, Mick has an interesting view: "On the face of it, Tipp's prospects are good but I wouldn't dream of looking beyond the first round clash with Waterford in Dungarvan. I am hopeful. but not confident. Waterford have been threatening it make the breakthrough in recent years and one of these days, things will go right for them. I'm extremely wary about this clash but if Tipp survive it, I'd be more relaxed about our chances."

There are those who believe that Mick had much more to give when he retired at the age of 31. "I still wanted to play on a Sunday but I didn't want to train on Tuesday and Thursday. I didn't enjoy the training anymore and when you're not enjoying it anymore, it's time to call it a day."

Written by the Hogan Stand Magazine - 16th Feb 1996 
Most Read Stories