Littlewoods Ireland unveiled as new GAA sponsor
December 06, 2016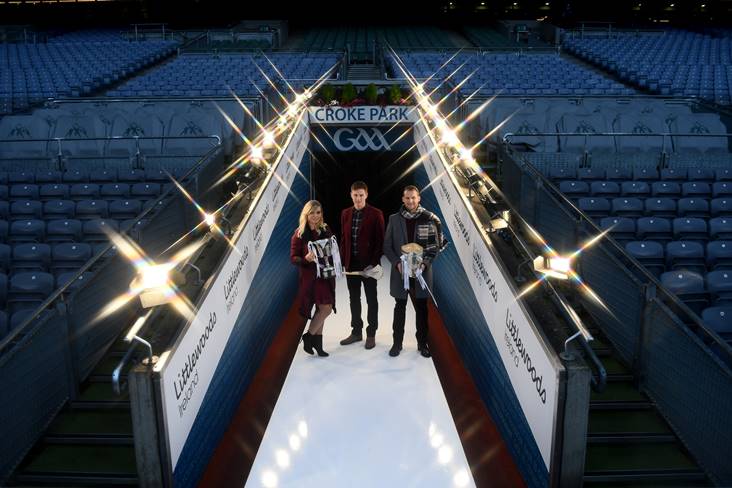 Anna Geary, Austin Gleeson and Jackie Tyrrell at Croke Park
Littlewoods Ireland was today unveiled as a new top tier partner of both the Gaelic Athletic Association and the Camogie Association. The fashion, electrical and homewares retailer has signed a three-year deal with the GAA which sees them become both the GAA Hurling All-Ireland Senior Championship and Camogie National League sponsor until 2019.
Its first act as sponsor has been to sign up two GAA style ambassadors in Cork's Anna Geary and the newly retired nine-time All-Ireland winner Jackie Tyrell from Kilkenny. The pair have already taken part in a V by Very Winter GAA Shoot at Lough Dan in County Wicklow which was unveiled at today's launch in Croke Park.
Waterford's Austin Gleeson was also on hand at the launch in Croke Park as the double-hurler of the year was unveiled as part of the Littlewoods Ireland GAA team for 2017.
Littlewoods Ireland has won a number of national and international marketing awards this year and plan to bring their expertise to bear as part of an innovative sponsorship campaign with a strong digital focus. 
GAA President Aogán Ó Fearghail commented: "I am pleased to welcome Littlewoods Ireland as new partners of the GAA Hurling Championship and I look forward to the support they will offer us in the promotion of the games in the months and indeed years ahead. This partnership will help us reach into new areas as we continually look at new ways of bringing our games to new audiences and supporters. I laud the fact that the arrangement also covers the activities and games of the Camogie Association which strikes me as a particularly good fit covering the wide spectrum of the GAA family given the area of expertise of Littlewoods Ireland. I look forward to a long and mutually beneficially partnership."
Most Read Stories