Death of Wexford Great
February 05, 2016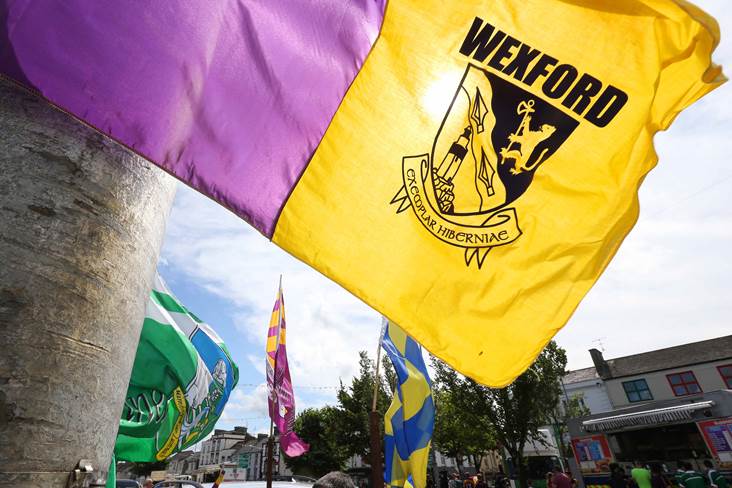 Paul McLoughlin named new Wexford manager.
©INPHO/Cathal Noonan.
One of the greatest ever dual players, Paddy Kehoe, passed away today at the age of 92.
Paddy's club Gusserane gave the great man this write up for his 90th birthday.
"Paddy was born in Drealistown on the 6th of June in 1923. Paddy would go on to become one of Wexford's most decorated sportsmen having played through a golden era for both Gusserane and Wexford. He first came to prominence when he lined out for Wexford minor hurlers and footballers in the thirties. He joined the army at the age of 17 and remained in the army for the next 5 years. During his time in the army Paddy played hurling, football and Rugby. He won a junior football county title with Gusserane in 1944 and this wonderful team went on to win three senior titles in a row in the ensuing years, Paddy also captained these teams. In 1954 they added another title making it four senior titles in a space of ten years and confirming their status as the kingpins of Wexford football.  Paddy also managed to squeeze in a County a county junior hurling title in 1947 when he lined out for the neighbouring Horeswood team.
On a County scene paddy was to become probably one of the greatest dual players that the county ever produced. He was part of a strong Gusserane contingent that back-boned Wexford to win a Leinster senior football title in 1945 - the last Wexford team to do so, also on that successful team paddy was joined by Gusserane greats - Mick Kehoe, Tom Somers and Johnny Leacy.. He was hugely instrumental in the emergence of Wexford hurling in the fifties. Wexford announced themselves on the scene in 1951 when they put up a display in the All Ireland final but were beaten by Tipperary. Everyone knew it was only a matter of time before success came. Paddy tasted Oireactas and national league success and featured in another All Ireland final in 1954 but had to wait until 1955 before he won the big one. He lined out at half forward that day against Galway and raised a white flag on the way to collecting his first All Ireland senior hurling medal. By the following year he had been lining out for the Wexford senior footballers and hurlers for 16 years but his determination and love of the games meant that he was still part of the Wexford panel that retained the Liam Mc Carty cup that year thanks to a win over Cork.
When this Wexford team ended the forty five year drought by winning the All Ireland in 1955 the new Ross district players were presented with a specially crafted steel Hurley to commemorate the achievement. Manufactured in New Ross by Steele, the hurls were individually inscribed by Baileys of New Ross. In 2012 Paddy presented this Hurley to the Gusserane club to have it displayed in the club house in Tom Somers Park. The Hurley was brought to Baileys on south street to be mounted and framed and the presentation was made by Paddy to the then Chairman of Gusserane O' Rahillys, on the night of his birthday celebrations.
Over the years paddy has managed Wexford senior football teams and managed junior hurling and football teams with Gusserane. Paddy is currently Gusserane O' Rahillys club president.
In June 2012 Paddy celebrated his ninetieth birthday party in Rosie's pub in Dunmain. The Special guest on the night was none other than Micheal O' Muirtheartaigh. He entertained the crowd on the night with stories of Paddy and other characters from that era. He acknowledged that paddy had been one of the greatest ever dual players to grace Croke Park and paid fitting tributes to the great man.
Present on the night was Paddy's loving wife Joan and members of Paddy's immediate and extended family as well as many team mates that would have lined out with him all those years ago. The night was a celebration of Paddy's life and Achievements and will be fondly remembered by all that were present.
For those of you who never had the pleasure of seeing Paddy Kehoe the player, these next few words will give you an idea of what it was like to try and mark on the field.
He weighs 15 stone and never forget has the heart of a tiger and the speed of a jet, better keep your distance if you want to grow, when you're playing on a man like Paddy Kehoe."
Most Read Stories