Canty calls time
November 02, 2013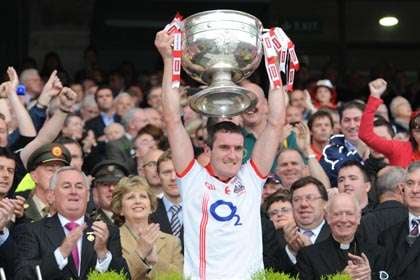 Cork captain Graham Canty lifts the Sam Maguire Cup
Cork's 2010 All-Ireland winning captain Graham Canty has announced his intercounty retirement.
The 32-year-old Bantry Blues clubman has been an integral part of the Rebel County set-up since 2000 and is the third high-profile Cork defender to announce his retirement in recent weeks, following Noel O'Leary and Paudie Kissane through the exit door.
As well as the 2010 Sam Maguire Cup, Canty also won three national league titles, four Munster SFCs, three All Stars and represented Ireland regularly in the International Rules Series.
A natural-born leader, he had been captain of the Leesiders since 2008. Speaking to The Irish Examiner last night, he confirmed his retirement from county football: "I've had a good run at it. There are no regrets, certainly.
"I'm glad to be finishing up with Cork while the body is in good enough nick. I'll be continuing with the club, 100%. When you're playing intercounty, you don't train with your club, realistically, so I'll be glad to fall back in with the lads in Bantry again.
"It was a great honour to play for Cork, and to captain Cork, obviously, but it was also hugely enjoyable. I was very lucky to have such great support from family, from my club, from the various management teams, all of which allowed me to play for Cork.
"Did I think I'd still be playing football for Cork in 2013, when I started off back in 2000? I'd have been happy if you'd told me I'd still be playing football, full stop."
Most Read Stories