Durcan: Cluxton the benchmark
July 19, 2013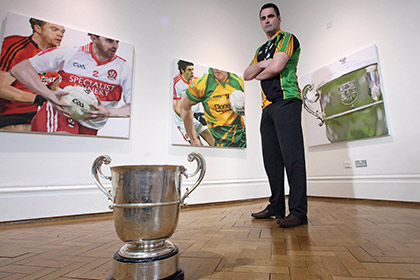 Donegal keeper Paul Durcan at the launch of the Ulster Championship in the Ulster Museum, Belfast. INPHO
All Star goalkeeper Paul Durcan says Stephen Cluxton is the custodian he tries to emulate.
As he prepares to bid for a third successive Ulster SFC medal against Monaghan on Sunday, the Donegal netminder admits he's always trying to improve his game and rates Cluxton's kick-outs as the best in the business:
"There's always things you want to to work on," he says in The Irish Daily Star. "Your kick-out evolves over time. You try and bring something different to it every season.
"Stephen Cluxton is the benchmark for goalkeepers. I was at Dublin's match with Kildare and he was putting the ball 60 yards after taking three steps.
"I like watching videos of goalkeepers, looking up clips on YouTube. I'd look at soccer goalkeepers, too. A guy like Gianluigi Buffon is just exceptional. He makes a lot of saves look easy that aren't."
Most Read Stories