Limerick counting the cost of top-flight exile
April 09, 2013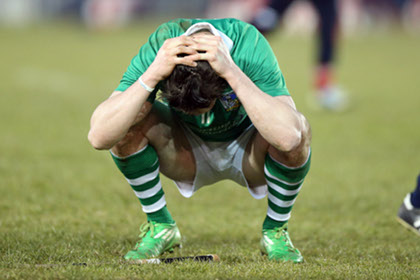 Limerick's Seamus Hickey dejected after the loss to Dublin. INPHO
Limerick's exile from hurling's elite tier is causing them severe financial hardship.
The Treaty County's second successive Division 1B final defeat means they will be in Division 1B again next year - a fourth season outside the elite inner circle - and according to County Board secretary Mike O'Riordan they are suffering huge financial losses due to the GAA's insistence on a six-team top division:
"We have quantified the loss per annum as being somewhere between €120,000 and €150,000," O'Riordan is quoted in today's Examiner. "We're under savage pressure and it's been like this for the last three years.
"Ultimately, it's the responsibility of every County Board to look after their own ship but ever since 2011, when we didn't get the promotion we had won, we've been feeling the effects.
"It's especially bad now, more so for the limited company, Gaelic Grounds Limited, than the County Board. We're at the high end of the market here in Limerick, paying high rates, high water charges, electricity bills, and all those costs take their toll, but the way things stand at the moment the Gaelic Grounds is very much under-utilised as a facility.
"If we were playing the likes of Kilkenny and Tipperary every year, obviously you have a better chance of making money. It's not just in the bigger attendance, the additional programme sales that goes with that, it's in the goodwill factor. It's a lot easier then to sell advertising space around the ground, a lot easier to get sponsorship.
"From a promotional aspect it doesn't serve hurling very well when you have so many traditional hurling counties kept from competing at the top level. The work that has gone into hurling in Limerick over the last decade, at underage especially, means that you need to see the team competing regularly against the best.
"Next year, because of the costs involved, there is a strong possibility that we won't be opening the doors of the Gaelic Grounds at all for the league, the games will most likely be played at club venues.
"We're finding it a real challenge to meet all our costs, especially when you're trying to maintain your county teams at a high standard. The lack of games really puts us under huge pressure."
Most Read Stories