O'Connor: Donegal stuck to their guns
January 25, 2013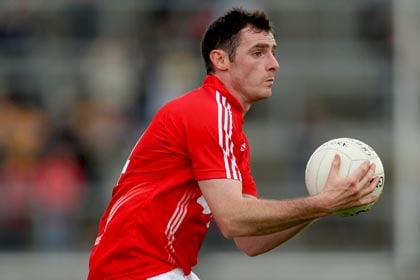 Cork's Donncha O'Connor. INPHO
Donncha O'Connor admires the way Donegal believed in their system last year.
Reflecting on the 2012 championship, the Cork attacker admits that there is something to learn from Donegal's approach:
"Every fella knows what the next fella's going to do," the Ballydesmond clubman tells The Examiner. "It's probably a bit dangerous if you're concentrating on what Donegal do, but it's just that they have a system. Whether they're up or down, they stick to it.
"I think it's just as simple as that, they stick to it and when push comes to shove, they don't panic or go away from it. I think that's what got them through games last year, that they all stuck to the game plan.
O'Connor admits that Jim McGuinness' men were tactically sharper than the Rebels last year:
"It definitely looked that way alright, and don't get me wrong, Donegal definitely deserved to beat us.
"In the first half I thought we played very well, were probably unlucky to go in down rather than up a point or two. I thought it was one of our best halves all year.
"At the start of the second half Donegal came at us but a lot of it was down to our giving the ball away to them and they were catching us on the counter attack and getting scores. They were up two or three points at the start of the second half and it felt like they were up a lot more.
"I think we panicked, to be honest. Definitely Donegal had a game plan and it worked but I felt we had a game plan too and it's not so much that the game plan didn't work, more that it was our mistakes that made it look like our game plan wasn't working whereas theirs was.
"I felt if we cut our mistakes down we would have been in with a bigger shout at the end of the game, maybe."
Most Read Stories