Gaynor embarrassed by Corbett tactic
August 22, 2012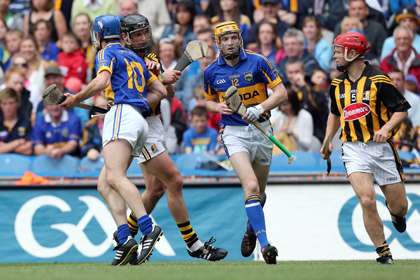 Lar Corbett chases around after Tommy Walsh. ©INPHO
Len Gaynor has become the latest high-profile figure to hit out at the controversial tactics employed by Tipperary during last Sunday's All-Ireland hurling semi-final mauling by Kilkenny.
The former Tipp player and manager has described the bizarre tactic of Lar Corbett attempting to man-mark Kilkenny defender Tommy Walsh as "embarrassing" and has called for a return to "the core values of Tipperary hurling".
He said on Tipp FM: "It was obvious they thought this out a bit and thought that it was going to work. They were going to change Lar on Tommy Walsh and Pa Bourke on Jackie Tyrrell but Kilkenny were never going to allow that to happen. We all knew that from last year's final and we should have been ready for that, that Jackie was going to be on Lar.
"That puts Lar in the best possible position for Tipperary but instead of that, they were going around in circles and that was embarrassing. It looked unreal - two Tipp players taken completely out of the game. They couldn't concentrate and were just roaming around, jostling around, digging, dragging, pushing and shoving. Kilkenny were doing it as well but it looked wrong and it was not effective for Tipp. It misfired badly."
The two-time All-Ireland winner continued: "I think we need to get back to the core value of Tipperary hurling. The basics are bravery and courage - bravery of mind to go and execute the job that you've trained to do, not to be obsessed by the opposition.
"When you get the heads and bodies right, then you can start tweaking and bringing in tactics. But when you start with tactics, you're going the wrong way about it."
Most Read Stories