Modest Brennan "overwhelmed" by reaction to retirement
January 16, 2012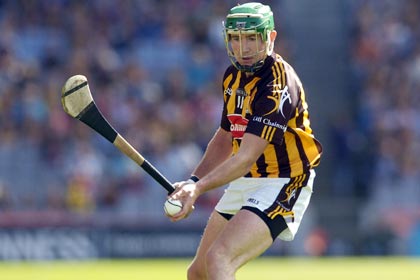 Kilkenny's Eddie Brennan
Eddie Brennan has been inundated with goodwill messages since announcing his inter-county retirement over the weekend.
The eight-time All-Ireland winning Kilkenny forward said: "The success that we've had and the run we've been on has been unbelievable, outrageous.
"A lot of it has been down to luck and there are lads who I would consider a cut above me that have gone and deserved more praise than me.
"I didn't expect it to cause this much of a stir. I've been inundated with best wishes but I'm surprised by the overwhelming reaction."
Brennan admitted his surprise at starting last September's All-Ireland final against Tipperary, which proved to be a fitting swansong for the Graigue-Ballycallan clubman.
"I've been highly fortunate to be going out on such a high. It was a little bonus to get back into the team but it wasn't the motivation to get on it and quit at the top, so to speak," he continued.
"Management were going to try a few things and I wouldn't have expected anything else. I went into the year with an open mind and the idea of getting myself right.
"As it turned out, the door opened up for me in the half forward line. I remember Colm O'Rourke saying you appreciate it the more you get older and he couldn't have been more right."
Most Read Stories