Harte: Rules does nothing for Gaelic games
October 21, 2011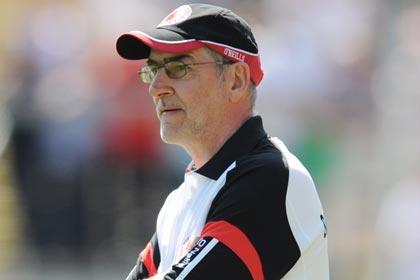 Tyrone manager Mickey Harte
Mickey Harte has reiterated his call for the GAA to withdraw from the International Rules series.
The Tyrone manager, who is a fierce critic of the Rules concept, writes in today's Irish News: "The so-called International Rules series is about to be embarked upon yet again. Formerly known as Aussie Rules and then adjusted to the Compromise Rules, this package has long outlived its usefulness - if indeed it ever did have any.
"As you are probably by now well aware, I have had - and continue to have - huge reservations regarding this project which, in my opinion, does a total disservice to the development of Gaelic games on the international stage.
"This product has no life outside the limited confrontations between a group of amateur players who play Gaelic games all year and their Australian counterparts who participate in the professional Australian Football League.
"The GAA should end this engagement immediately, and go to work on augmenting the endeavours of true Gaels in many parts of the world who operate without compromise."
Most Read Stories