What they said … the weekend in quotes
April 15, 2019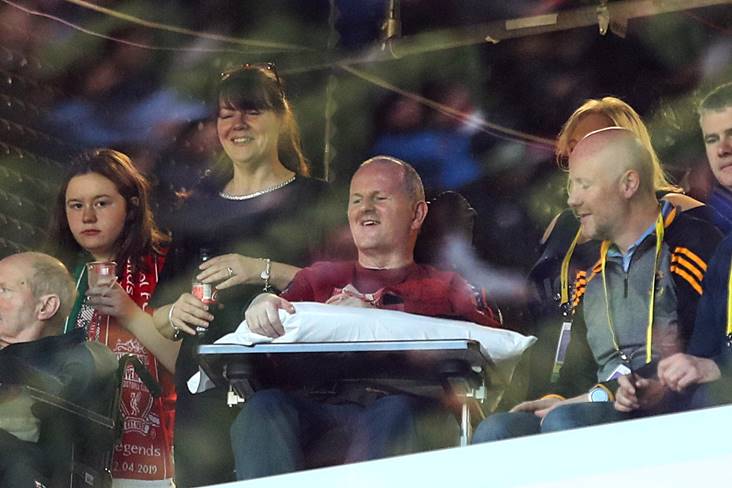 Sean Cox before the Republic of Ireland Legends-Liverpool Legends fundraiser at the Aviva Stadium. ©INPHO/Ryan Byrne.
"I have no real interest in football at the moment, the last few weeks even training with the club I haven't really enjoyed it and I just don't have the hunger and the desire to give the commitment to Donegal."
Donegal's summer prospects were dealt a blow with the news that Odhran MacNiallais won't be on board for their defence of the Anglo Celt Cup.
"There were plenty of dark nights when we were left standing up against a wall. Those were different times and hopefully we'll never see it again because the GAA suffered a lot."
Former Armagh, Ulster and Ireland manager Joe Kernan is concerned about the possibility of a hard border Brexit.
"It would be a disaster to have to revert back to what went on before, but we will exert as much influence as we can. At the same time, I think it's ultimately above us, in a way."
GAA President John Horan echoed Kernan's sentiments.
"He is a players man, he would do anything possible for the players. All of the management would do that. If we were stuck anywhere he would be the first man to come to collect you."
Westmeath's footballers are riding high on the crest of a wave at the moment and captain Kieran Martin was fulsome in his praise of manager Jack Cooney's impact since taking over.
"We want to ensure that the logo on referees' jerseys is honoured - give respect, get respect."
The GAA's Referee Development Committee chairman Willie Barrett is determined to crack down on abuse of officials.
"I got to see Sean before the game and it broke my heart. It could have happened to anyone, any one of us. It's like sliding doors isn't it? A minute later, ten minutes before. It doesn't stop here though. It's ongoing. Sean's recovery is something we'll always watch closely."
Former Ireland and Liverpool star Jason McAteer was delighted with the huge turnout at the Sean Cox fundraising game in the Aviva Stadium on Friday night.
"It was bad news and a big blow, but at least it wouldn't be his season over; hopefully not for the county or club. It's a serious blow to us because he's been a massive presence for us this year, a massive leadership presence since we've been here."
Monaghan manager Malachy O'Rourke has to plan without the services of midfielder Darren Hughes for their Ulster SFC campaign.
"We came into this game and needed a win and the girls really stepped up. It's a massive, massive win for Cavan football."
James Daly guided the Cavan ladies into the last four of the NFL Division 2 competition.
Most Read Stories