FL4 round-up: Leitrim push on
February 03, 2019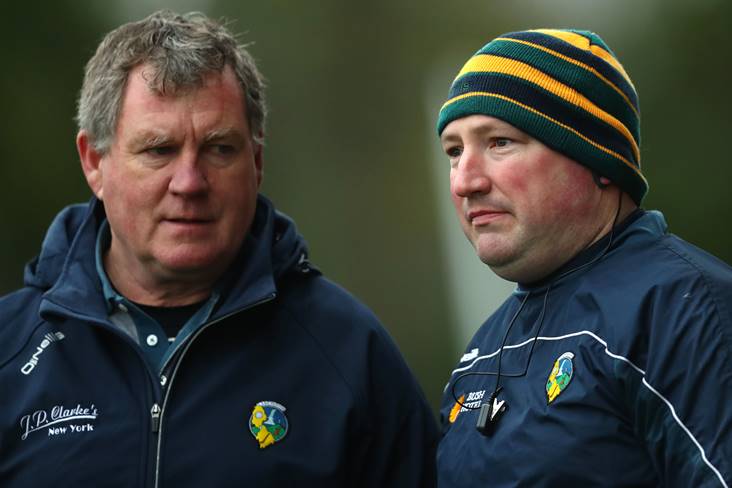 Leitrim manager Terry Hyland and selector Padraig McGourty. ©INPHO/James Crombie.
Leitrim made it two wins from two when beating Wicklow by 1-16 to 1-12 in a thrilling encounter at Aughrim.
Conor McGraynor pointed the Garden County into a 1-12 to 0-14 lead late on but Ryan O'Rourke netted for the visitors in the 69th minute before Shane Moran and Gary Plunkett posted injury-time points for Terry Hyland's charges, who amassed a brilliant 1-14 from play.
Mark Doyle's goal gave John Evans' men a 1-5 to 0-7 interval lead and they still led after McGraynor hit the follow-up to goalkeeper Mark Jackson's fifth point. But the visitors finished impressively.
In the early throw-in in the bottom division, Derry eased to a 0-19 to 1-9 victory over London at Owenbeg, Adrian Hanlon's goal had the Exiles just two adrift at the short whistle but Damian McErlain's men pulled clear in the second half, Emmett Bradley posting seven points and Ciaran McFaul five.
At Rathkeale, Limerick made it two wins from two when Patrick Begley's goal on the hour propelled them to a 1-13 to 0-10 victory over Waterford, while 14-man Wexford bagged their first points when beating Antrim by 1-10 to 0-9 at Wexford Park, substitute Daithi Waters the goalscorer seven minutes after the restart.
Leitrim - D McKiernan; M McWeeney, P Maguire (0-1), A Flynn; S Quinn, M Plunkett, R Mulvey (0-1); S Moran (0-2), P Dolan (0-1); S McWeeney, D Flynn (0-2), J Heslin (0-1); D Moran (0-3, 1f), D McGovern, R O'Rourke (1-3, 0-1f). Subs: E Sweeney (0-1) for D Moran, G Plunkett (0-1) for D McGovern, C McGloin for D Flynn, D Rooney for J Heslin.
Wicklow - M Jackson (0-5, 3f, 2'45); O Manning, R O'Brien, J Snell; D Devereux, S Mooney, D Fitzgerald; P O'Toole, D Healy (0-1); D Hayden (0-2), A McLoughlin, T Smith; M Kenny, M Doyle (1-1, 0-1f), P O'Connor (0-1). Subs: C O'Brien (0-1) for A McLoughlin, C Healy for D Hayden, G Murphy for M Doyle, C McGraynor (0-1) for P O'Toole, S Duffy for T Smith.
Referee - N McKenna.
**
Derry - T Mallon; P Coney (0-1), J Rocks, E Concannon; K McKaigue, C McKaigue, N Keenan; C McAtamney, C McFaul (0-5); E Bradley (0-7, 3f), P Cassidy, J Doherty; S McGuigan, E Lynn, C Bradley (0-3). Subs: N Toner (0-2) for S McGuigan, P McNeill for E Lynn, C Doherty (0-1) for C Bradley, P McGrogan for J Doherty.
London - D McDonagh; P Butler, M Clarke, M Moynihan; D Carrabine, A McGarvey, R Jones (0-1); R Forde, A Hanlon (1-0); L Gavaghan (0-5, 4f), J Hynes, B Tully; M Gottsche, D Dunne (0-1), K Butler (0-1). Subs: E Flanagan for J Hynes, C Doran (0-1) for D Carrabine, R Devlin for A Hanlon, C O'Neill for R Jones, P McGirr for D Dunne.
Referee - S Lafferty.
**
Limerick - D O'Sullivan; S O'Dea, G Noonan, P Maher; C McSweeney, I Corbett, C Fahy; D Treacy, T Childs; P Nash (0-2), J Lee (0-1), D Lyons (0-1); S McSweeney (0-3, 2f), P Begley (1-2, 0-2m), S O'Carroll (0-4). Subs: B Donovan for D Lyons, J Liston for C McSweeney, S Keeley for T Childs, M Fitzgibbon for J Lee, O Collins for P Maher.
Waterford - A Beresford; A Trihy, R O'Ceallaigh, J McGrath; B Looby, M Curry, T O hUallachain; S Ryan, T Prendergast; S Whelan Barrett (0-1), F O Cuirrin (0-2), C Murray (0-3); J Curry (0-4, 2f, 1m), S Ahearne, D Hallihan. Subs: D Fitzgerald for S Whelan Barrett, D Guiry for T Prendergast, K Power for F O Cuirrin.
Referee - J Hickey.
**
Wexford - M Doyle; M Furlong, M O'Neill, C Carty; G Malone (0-1), S Doyle, M O'Connor; B O'Connor, N Hughes; B Malone, J Bealin (0-5, 4f), C Devitt (0-1); K O'Grady (0-1), C Devereux (0-1f), J Tubritt. Subs: M O'Regan for J Tubritt, D Waters (1-0) for B O'Connor, B Brosnan (0-1) for C Devereux, R Frayne for C Devitt, E Nolan for C Carty.
Antrim - A Hasson; P McCormick, R Johnston, P Gallagher (0-2); N Delargy, M McCarry, D Lynch; M Sweeney, F Burke; M Johnston, S Beatty (0-1), P McBride (0-1); C Duffin, R McCann (Aghagallon), R Murray (0-4, 2f, 1m). Subs: M Fitzpatrick for F Burke, K Quinn (0-1) for S Beatty, R McCann (Creggan) for M McCarry, E McCabe for C Duffin, D McCormick for R McCann (Aghagallon).
Referee - A Kissane.
Most Read Stories