O'Keeffe: goal killed our momentum
April 03, 2019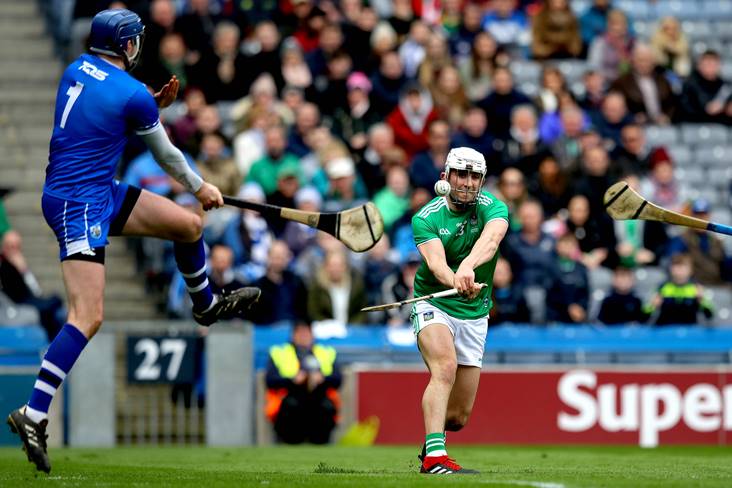 Waterford goalkeeper Stephen O'Keeffe saves a shot at goal from Limerick's Aaron Gillane during the Allianz HL Division 1 final at Croke Park. ©INPHO/Ryan Byrne.
Waterford goalkeeper Stephen O'Keeffe believes that Aaron Gillane's touch of brilliance turned the NHL final in Limerick's favour.
Gillane got the deftest of touches to a long ball in to divert the sliotar past a helpless O'Keeffe after Waterford had worked their way back into the game.
The goal seemed to rally Limerick while at the same time deflated Waterford as the Shannonsiders went on to record a comfortable win.
Speaking to the Waterford News & Star, O'Keeffe admitted that the goal was a real turning point in the game.
"We did well to pull it back but a long ball into the square and Aaron Gillane got a great touch and the ball went in. That was a real sucker punch I think. It killed our momentum," said O'Keeffe.
The Ballygunner clubman added that he didn't see Gillane's flick until the last second stopping him from adjusting his body to make the save.
"Very, very late in fairness. It was a great goal, there's not a whole lot you can do about those things. Sometimes good players like that will create good scoring chances. Sometimes you have to hold your hand up.
"Anytime these days you can get a goal it seems to be worth a lot more than three points. The team that scores it seems to have momentum for the next five or ten minutes. We saw that. We went in five down at the break and we were always trying to get back into it."
Most Read Stories