'Super11s is a great concept', says Conlon
November 17, 2017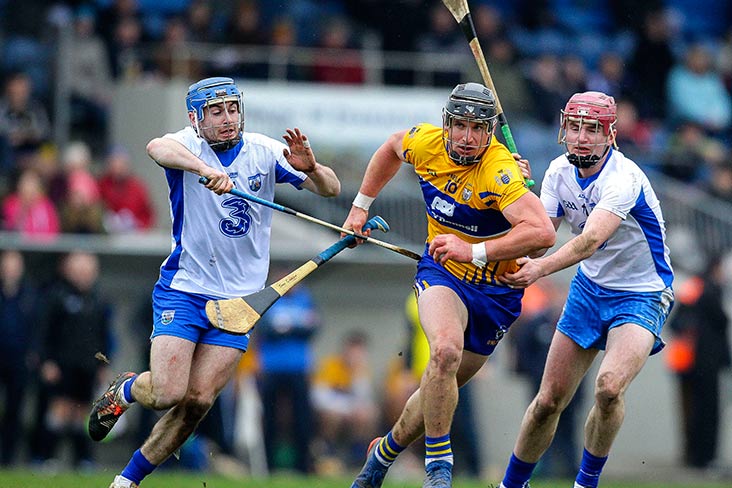 Clare's John Conlon with Waterford's Colin Dunford and Paddy Cooke during round 4 of the Munster Senior Hurling League at Fraher Field
By John Fallon 
Experienced Clare forward John Conlon said that playing in an iconic stadium such as Fenway Park in Boston is a huge opportunity for GAA players.
The 28-year old said he is really looking forward to Sunday's AIG Fenway Classic when he will be hoping that the Bannermen can see off old rivals Tipperary and meet either Galway or Dublin in the final.
"It is such a unique stadium, I've read a lot about it and the chance to play there is great. It has such a wonderful history with the Red Sox and it is great that hurlers have the opportunity to play there.
"I can certainly say that when I started out playing hurling I never thought I would end up playing it in Fenway Park! But it's not just the stadium, the Super11s is a great concept in itself and good opportunity to try out new rules.
"We play a lot of small-sided games in training throughout the year so the reduced pitch and having it eleven-a-side is not that big a change, and I'm sure it's the same for the other counties.
"But the format allows for a very fast game, the interchanging of subs adds to that, same with the tap and go frees, all of it leads to an increase in the skill levels," said the Clonlara clubman.
He toured Shanghai in 2013 with the All-Stars and is again looking forward to meeting up with players from other counties, but the former NUI Galway Fitzgibbon Cup winner warned that none of the four counties would be holding back on Sunday.
"It will be 'Hell's Kitchen' when we are inside the white line on Sunday, that's the way it should always be, we will all be going out there to win it.
"It doesn't matter whether it is eleven-a-side or 15, there is a competitive streak in all of us and we go out to win, not least as there will be almost 30,000 people there and it will be live on television in the US and Ireland.
"But there is also social aspect and it will be great to meet lads from other counties. I would know a lot of them from playing against them over the years or maybe playing with them when we were in college.
"We have been out of the championship since July so this is sort of the start of 2018 for us. We have had a few training sessions to get used to the new rules and at this stage everyone is looking forward to the trip," added the teacher at St Aidan's national school in Shannon where Ger Loughnane was principal before he retired.
Most Read Stories