2018 fixtures: Munster and Leinster hurling finals on same day
October 31, 2017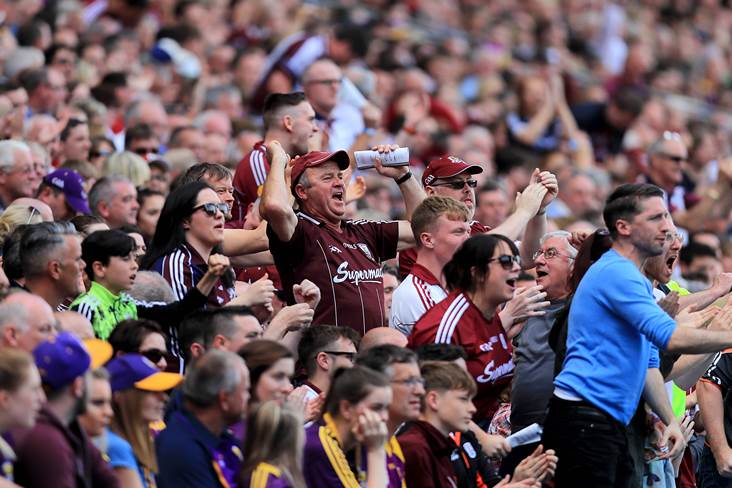 Galway supporters celebrate a score during their side's Leinster SHC final victory over Wexford at Croke Park.
©INPHO/Donall Farmer.
The 2018 Leinster and Munster SHC finals will both be staged on Sunday, July 1st.
According to the GAA's 2018 Master Fixtures Plan, which has been tweaked following changes voted in at Congress and released today, it has also been confirmed that the All-Ireland hurling final moves to August (Sunday, 19th), while the Sam Maguire decider is relocated from its traditional third-Sunday-in-September slot to Sunday, September 2nd.
The football and hurling leagues throw in simultaneously on Saturday, January 27th and the Division One and Two football league finals on April 1st are the only intercounty fixtures scheduled for April.
On Saturday night, June 23rd, the national hurling league final and Munster football final will both be staged.
Provincial championship fixtures:
May 6th
Connacht football championship
Leitrim v New York
Sligo v London (Ruislip) 
May 12th
Leinster hurling championship
Offaly v Galway
May 13th
Connacht football championship
Mayo v Galway
Ulster football championship
Donegal v Cavan
Leinster hurling championship 
Dublin v Kilkenny
May 12th/13th
Leinster football championship
Laois v Wexford
Louth v Carlow
Offaly v Wicklow
May 19th
Ulster football championship 
Fermanagh v Armagh
Munster football championship
Clare v Limerick
Tipperary v Waterford
May 20th
Munster hurling championship
Cork v Clare
Limerick v Tipperary
Ulster football championship
Tyrone v Monaghan
Leinster hurling championship
Kilkenny v Offaly
Wexford v Dublin
May 26th

Ulster football championship 
Down v Antrim
Connacht football championship
Leitrim/NY v Roscommon
May 26/27th
Leinster hurling championship
Offaly v Wexford
Leinster football championship
Laois/Wexford v Westmeath
Louth/Carlow v Kildare
Offaly/Wicklow v Dublin
Longford v Meath
May 27th
 
Munster hurling championship
Tipperary v Cork
Clare v Waterford
Leinster hurling championship
Galway v Kilkenny
UIster football championship
Donegal/Cavan v Derry
June 2nd

Munster football championship
Clare/Limerick v Kerry
Tipperary/Waterford v Cork
Munster hurling championship
Cork v Limerick
Leinster hurling championship
Wexford v Galway
June 3rd

Munster hurling championship
Waterford v Tipperary
Leinster hurling championship
Dublin v Offaly
Connacht football championship
Mayo/Galway v Sligo/London (Sligo/Galway)
Ulster football championship
Fermanagh/Armagh v Tyrone/Monaghan
June 9th
Leinster hurling championship
Kilkenny v Wexford
Galway v Dublin
June 10th
Munster hurling championship
Limerick v Waterford
Tipperary v Clare
Ulster football championship
Donegal/Cavan/Derry v Down/Antrim
Leinster football championship
Offaly/Wicklow/Dublin v Longford/Meath
Laois/Wexford/Westmeath v Louth/Carlow/Kildare
June 17th

4pm Connacht football final
Munster senior hurling championship
Clare v Limerick
Waterford v Cork
June 23rd

7pm Munster football final
June 24th

2pm Ulster football final
4pm Leinster football final
July 1st

2pm Munster hurling final
4pm Leinster hurling final
Opening round national league fixtures
NFL Division 1
27 Jan:  Dublin v  Kildare, Croke Park, 7.00pm
28 Jan:  Kerry v Donegal,  Fitzgerald Stadium, 2.00pm
28 Jan:  Monaghan v Mayo, Clones, 2.00pm
28 Jan:  Galway v Tyrone, Pearse Stadium, 2.30pm
NFL Division 2
27 Jan:  Clare v Cavan, Cusack Park, 2.00pm
27 Jan:  Cork v Tipperary, Pairc Ui Chaoimh, 7.00pm
28 Jan:  Louth v Down, Gaelic Grounds Drogheda, 2.00pm
28 Jan:  Roscommon v Meath, Hyde Park, 2.30pm
NFL Division 3
28 Jan:  Armagh v Sligo, Athletic Grounds, 2.00pm
28 Jan:  Fermanagh v Wexford, Brewster Park, 2.00pm
28 Jan: Offaly v Longford, O'Connor Park, 2.00pm
28 Jan:  Derry v Westmeath, Owenbeg, 2.30pm
NFL Division 4
27 Jan:  London v Carlow, Ruislip, 1.00pm
27 Jan:  Laois v Limerick, O'Moore Park, 7.00pm
28 Jan:  Antrim v Leitrim, Corrigan Park, 2.00pm
28 Jan: Wicklow v Waterford, Aughrim, 2.30pm
NHL Divsion 1A
27 Jan:  Cork v Kilkenny, Pairc Ui Chaoimh, 7.00pm
28 Jan:  Clare v Tipperary, Cusack Park, 2.00pm
28 Jan:  Waterford v Wexford, Walsh Park, 2.00pm
NHL Division 1B
27 Jan:  Dublin v Offaly, Croke Park, 5.00pm
28 Jan:  Galway v Antrim, Pearse Stadium, 12.30pm
28 Jan:  Limerick v Laois, Gaelic Grounds, 2.00pm
Most Read Stories