Harte calls on GAA to 'cut ties' with AFL
January 05, 2020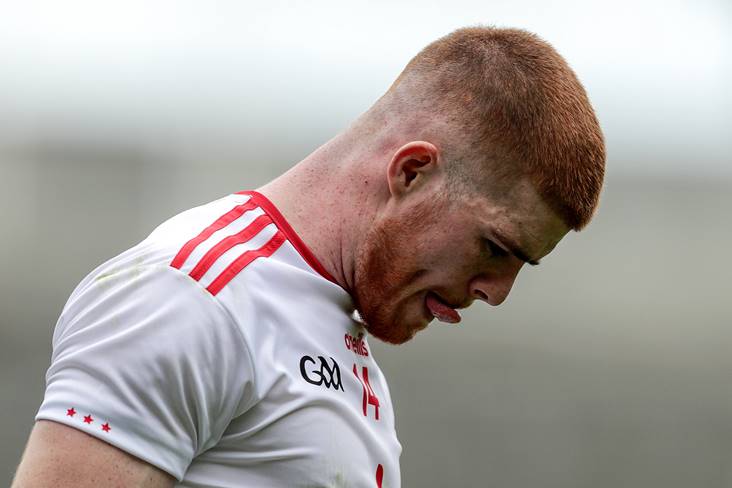 Tyrone's Cathal McShane dejected. ©INPHO/Laszlo Geczo.
After a week in which the sporting headlines were dominated by news of Cathal McShane's imminent departure to Aussie Rules, Tyrone manager Mickey Harte has called on the GAA to sever all links with the AFL.
"It would be well known that I would not be a fan of Gaelic players being scooped by the AFL and it's a bit sad I think that this used to be the job of unknown scouts from Australia but now it's actually ex-GAA people from Ireland who are actually scouting our players to take them away to another league which is of no benefit to us whatsoever," Harte told the Strabane Chronicle after his side's McKenna Cup victory over Cavan this afternoon.
"It's one-way stuff, lose, lose for us and it doesn't make much sense to me that we would still engage officially with that outfit while this goes on.
"It saddens me to say the least and I hope that somebody somewhere sees the nonsense of what we're doing and cuts ties with them officially."
While resigned to McShane trying his hand at Aussie Rules, the veteran manager remains hopeful that the All-Star full forward won't be lost to Tyrone.
"Cathal is on his way temporarily I would suggest, going out to see if that is something that he wants to do. He has not made any final decision yet one way or the other," he stressed.
"As long as he has not made the decision to go there, then I would still hold reasonable hope that he could still be playing football for Tyrone this year. But if he makes his decision to go then that's his perogative to do so."
Reports of McShane's departure to the Brisbane Lions comes after it was confirmed in November that the International Rules series will return later this year.
Most Read Stories