Club run has given Cavanagh unexpected pick-me-up
November 24, 2017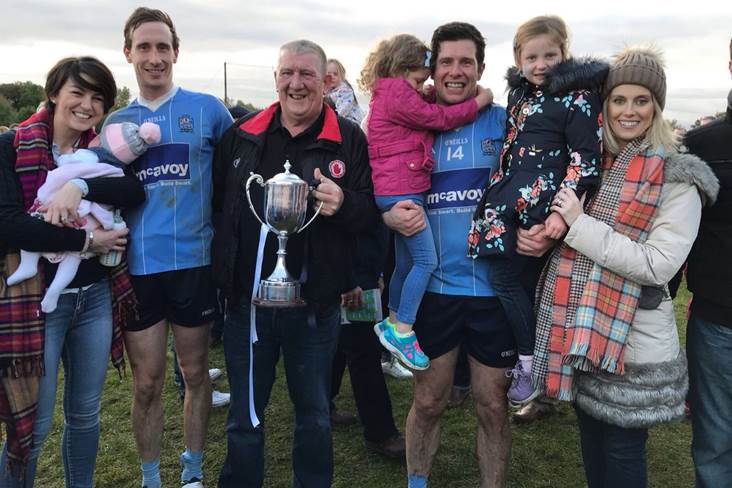 Brothers Sean and Colm Cavanagh and family celebrate with the trophy after Moy's Tyrone IFC final victory over Derrylaughan at Carrickmore
Sean Cavanagh says Moy's success has helped him to get over the disappointment of Tyrone's All-Ireland SFC semi-final defeat to Dublin.
Cavanagh left the Croke Park pitch in tears after his final game for the Red Hands ended in a crushing 0-11 to 2-17 loss to Jim Gavin's charges. But with Moy progressing to Sunday's Ulster club IFC final against Rostrevor and the birth of his son Sean Jnr, the Tyrone legend has moved on quickly from his August heartbreak.
"It almost seems like fate that I am where I am," he said in the Belfast Telegraph.
"I have been playing for the Moy senior team since I was 15 and about 10 minutes after retiring as a county player I'm now getting success for the first time at club level would you believe!
"I can now really start to relate to the way players in Crossmaglen and Slaughtneil with whom I have played in the Ulster side felt when they were talking about the special club feeling and bond they had experienced through being successful. Now I'm starting to feel it - and what a feeling it is.
"It's as good as pulling on a Tyrone jersey and going out to play at Croke Park. When we played Newbridge in the Ulster club semi-final, I can't describe what it was like to see the whole Moy community and my family seated in the stand.
"The buzz and feeling around my own house has been magical. (My brother) Colm got his All Star too, but to be in this final with Moy is just extra special.
"The buzz when we reached this final was as good as any I have experienced in the build-up to All-Ireland finals with Tyrone. We are riding the crest of a wave and I've forgotten that I've retired from the county scene.
"And that's because I'm enjoying life that much with the club.
"With the arrival of baby Sean, getting an honour in Dublin from the Tyrone Association and reaching this intermediate final, it has really been a special few weeks in my life.
"The club and my family helped to pick me up after that dark day (semi-final defeat) in Croke Park against Dublin. Ever since that it has been blue skies."
Most Read Stories