Sheedy would love to see pitches opened sooner than July 20
May 13, 2020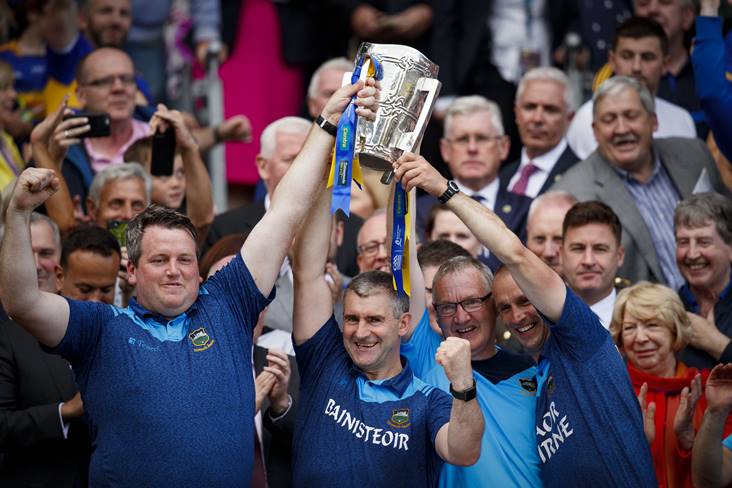 Tipperary manager Liam Sheedy lifts the Liam MacCarthy Cup with members of his backroom staff. ©INPHO/Oisin Keniry.
All-Ireland winning Tipperary manager Liam Sheedy wishes that the GAA would open pitches sooner so that players can safely have a puck around.
The guidance from the GAA is that all activities are suspended until July 20 and pitches must remain closed to members until that date.
Sheedy was talking on Game On on RTÉ 2fm and he admitted that he would be in favour of opening pitches as long as people follow health guidelines.
"In terms of mental fitness, the pitches around Ireland can give a lot," explained Sheedy. " Especially in rural Ireland, I think it'd be a massive win.
"And look, if it can't be policed or can't be supported, or if there's misbehaviour, then you lock the gates.
"If you take three Tipperary players if they were members of Thurles golf club, the two Mahers and Seamie Callanan could decide to go off and play a game of golf next week and spend four or five hours there.
"But right now, they can hurl outside the pitch but they can't go in.
"There is no competition and we all understand that there is no competition for the foreseeable future but an opportunity to get into a hurling wall and practice your skills is I think a missed opportunity in how we're currently structured.
"I do appreciate that it's not an easy one to solve and I think the GAA has done an awful lot right in this pandemic. I think they've been excellent overall. But certainly the one area where we could give a little back on is the hurling pitch."
Most Read Stories