No injury concerns for Limerick as they eye up Cody's cats
July 23, 2019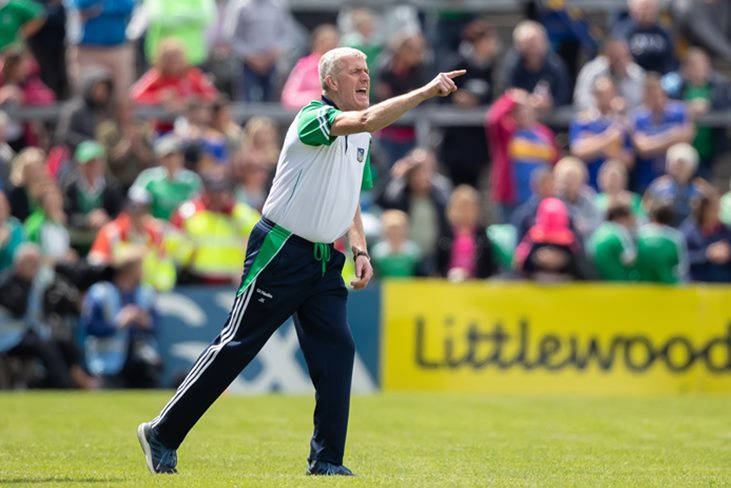 John Kiely during Limerick's Munster SHC final win over Tipperary
by Declan Rooney
Limerick manager John Kiely thinks his side cannot afford to take Kilkenny for granted in Saturday's All-Ireland hurling semi-final or their reign as champions will be ended abruptly.
Kiely led his side to their first All-Ireland senior hurling title in 45 years last September, with victory over Kilkenny in the quarter-final a key result along the way.
As current All-Ireland, league and Munster champions the taste of winning has become very familiar recently, but the Limerick manager insists their is no temptation to let minds wander towards another All-Ireland final appearance.
"We're very much focused on on the next hurdle, we're like a horse in a steeplechase," said Kiely, who is in his third year as manager.
"You can reflect on a great jump you just had and then the next fence you go out on your knees, out over the ears and you're gone.
"We're very much focused on the next day, always. We'll try to take the learnings from games we've played, but that's all we do, is take those learnings and try to improve on the past."
Kiely reported a full clean bill of health in his squad, with long term absentee Barry Murphy the only player unavailable to him.
Victory over Tipperary in the Munster final at the end of June ended a six-year wait for provincial honours, but Saturday's game is another massive test for Limerick. And after last season's knock-out meeting with the record 36-time All-Ireland champions, Kiely knows his side need to be on song.
"It was a real 50-50 match. It was only a case of who was going to be in the lead when the final whistle went more than one team beating the other. We were just lucky that we managed to get our noses in front before the final whistle. That was the bottom line.
"We had control of the game for good spells and made good use of it. But when they got their purple matches they took great use of it as well. Richie Hogan came on and did his usual, got a vital score, a big score, a goal. He is capable of doing that on a regular basis he did it again then and did it again the last day.
"They have real strength in their forwards with a load of experience as well with TJ Reid, Richie Hogan, Colin Fennelly, Walter Walsh and a lot of these lads are coming back at the right time. It is going to be a real challenge for us on Saturday."
Alongside Kiely on the Croke Park sideline on Saturday evening will be Kilkenny manager Brian Cody, and since he took charge in 1998 Cody's county has won everything in the game, including 11 All-Irelands.
Kiely's side currently hold the Liam MacCarthy Cup, the national league title as well as they recently earned Munster championship though, although he still regards Cody as the master.
"I marvel at what he has done, marvel. I don't know where he gets the energy from," said Kiely.
"But he loves Kilkenny hurling, he loves hurling. And he always manages to get the best out of his teams every day he goes out. He is an example to all of us really."
Most Read Stories