Christy Ring Cup round-up: Regan fires Royals into final where Down will provide the opposition
June 08, 2019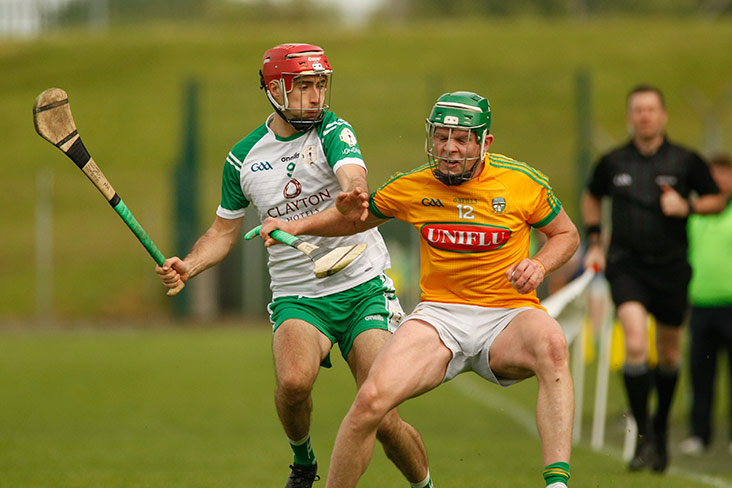 London's Jesse Kennedy with Jack Regan Meath during the Christy Ring Cup clash at Pairc Tailteann
Jack Regan was in top scoring form as Meath justified favouritism against Derry in today's Christy Ring Cup semi-final at the Athletic Grounds.
The Royals registered a 3-24 to 2-18 success and Regan accounted for 1-14 of his side's tally
The Kiltale clubman sent over 10 points (9 frees) in the opening period which finished with the team in green and gold 0-15 to 2-8 to the good.
Se McGuigan and Gerald Bradley raised green flags for the Ulster outfit but second-half goals from Regan, Gavin McGowan and substitute Nicholas Potterton swung the fixture in Nick Fitzgerald's side's favour.
Centre-forward Cormac O'Doherty top scored for the Oak Leafers with seven points but his efforts proved to be in vain.
The Royals reward is a Croke Park final showdown with Down who prevailed on a scoreline of 3-18 to 1-15 against Roscommon at Inniskeen.
The Mourne County led by 2-8 to 0-10 at half-time courtesy of goals from Daithi and Eoghan Sands while right corner-forward Daithi added his second, and team's third, in the 59th minute.
Meanwhile, London saved their Christy Ring Cup skin thanks to a 2-18 to 1-14 victory over Donegal in today's relegation play-off at Crossmaglen.
Meath - S McGann; G Murphy, D Kelly, S Whitty; S Brennan, K Keoghan, J Kelly; S Geraghty, C McCabe (0-1); D Healy (0-1), B Slevin, J Regan (1-14, 0-12f, 0-1'65); G McGowan (1-1), A Gannon (0-4), A Douglas (0-2). Subs: S Morris (0-1) for B Slevin, Colm O Mealoid for D Kelly, N Potterton (1-0) for C McCabe.
Derry - S Kelly; P Kelly, S Cassidy, D McCloskey; M McGrath, M Craig, L Og Hinphey; M McGuigan (0-1), B Og McGilligan (0-1); T Brady (0-1), C O'Doherty (0-7, 5f), T McHugh (0-2); G Bradley (1-0), S McGuigan (1-1), R Mullan (0-5, 1f). Subs: C Kelly for M McGrath, J Mullan for M McGuigan, A Grant for B Og McGilligan, O McKeever for C O'Doherty.
Referee - S Hynes.
**
Down - S Keith; T Murray, C Taggart, D Mallon; M Fisher, J McManus, M Conlon; P Savage (0-2), L Savage (0-1); C O'Prey, P Sheehan (0-6, 5f), T Prenter (0-2); D Sands (2-3), E Sands (1-1), O MacManus (0-2). Subs: R McCrickard for T Prenter, PJ Davidson (0-1) for C O'Prey, R McCusker for P Sheehan, G Hughes for T Murray, R Blair for O MacManus.
Roscommon - N Fallon; P Kenny, P Nolan, H Rooney; C Coyle, P Kellehan, E Flanagan; D Heavey, C Dolan (0-4, 3f, 1'65); C Mulry (0-2), N Connaughton (1-2, 0-1f), P Kelly (0-3); S Curley (0-2, 1'65), C Egan (0-2), E Kenny. Subs: A Moore for E Flanagan, G Keenan for C Coyle, G Egan for D Heavey.
Referee - T Walsh.
**
London - P Buckley; C McAlinden, P Muldoon, F Collins; J Kennedy, K Burke (0-1), L Murphy; M O'Dwyer, C Thornton (0-1); S Lohan (0-1), A Sheehan (0-2, 1'65), S Lawless (1-2); D Nolan (0-7, 5f, 1'65), B McCarry (1-0), C Nelson (0-4). Subs: D Glynn for J Kennedy, C McSweeney for A Sheehan, O Royston for F Collins.
Donegal - P Burns; M Callaghan, S Gillespie, C Parke; N Cleary, S McVeigh, J O'Loughlin; D Cullen, J Boyle (0-1); C Matthewson (1-3, 1-0pen), C Finn, C Flood; L Henderson (0-9, 8f, 1'65), G Browne, D Duffy. Subs: PJ McCarron (0-1) for C Finn, C O'Grady for C Flood, R Hilferty for D Duffy, C McDermott for N Cleary.
Referee - M Murtagh.
Most Read Stories