'It was a bizarre thing to do'
May 12, 2019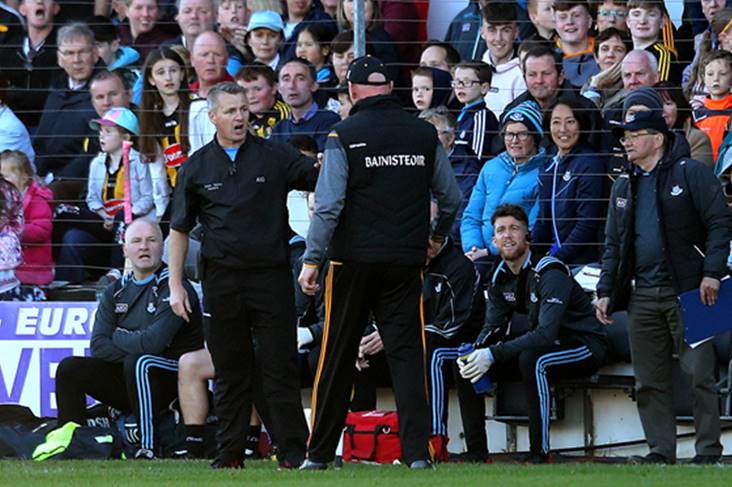 Kilkenny manager Brian Cody has some words with Dublin selector Greg Kennedy during the Leinster SHC clash at Nowlan Park
Brian Cody was far from impressed with Dublin selector Greg Kennedy after he was at the centre of a 'bizarre' incident during Kilkenny's Leinster SHC opening round win at Nowlan Park last evening.
The former Galway defender intercepted a short free from TJ Reid while on the field giving instructions late in the first half, thus denying Kilkenny a goal-scoring opportunity. Cork referee Cathal McAllister ordered that the free be retaken, but Kennedy - much to Kilkenny's ire - escaped sanction.
"Well, I'd say even people who are longer involved in the game than I am haven't seen it, so I certainly haven't seen it before. I know Greg Kennedy played a fair bit at corner-back, but tonight it was a bizarre thing to do," the Kilkenny manager reflected in the Irish Independent.
"TJ could have tapped it over the bar obviously, but he was thinking 'goal opportunity' because it was a goal opportunity and that happened, so I wasn't happy about it, no I wasn't."
Cody's opposite number Mattie Kenny claimed Kennedy didn't intercept the ball deliberately.
"I didn't see it but, look it, I know Greg a long, long time. I was just talking to him there; the whistle hadn't gone he was going off the field. The ball was coming over his head, he told me it was just kind of a reaction thing.
"Greg is a real top-class sports guy. He's very competitive but one thing about him, he wouldn't do anything like that deliberately and he assured me it was just a reaction when the ball came over his head."
Most Read Stories