D'Arcy growing weary of gender references
April 12, 2019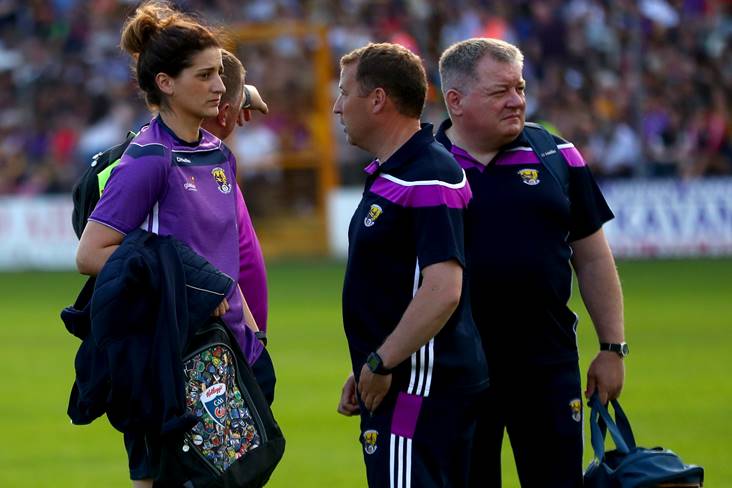 Wexford goalkeeping coach Mags D'Arcy. ©INPHO/James Crombie.
Mags D'Arcy is looking forward to the day when female coaches are fully accepted in the GAA.
Eyebrows were raised last year when the four-time All-Ireland camogie winner was appointed as goalkeeping coach to the Wexford senior hurlers. Her role has since expanded to that of general coach.
"Yeah, there seems to be a bit of an echo in the room, to be honest," she said at the launch of Bord Gais Energy's extension of its All-Ireland SHC sponsorship.
"I'd like for it to be normalised. I don't want headlines; I really don't want headlines, but it seems to come with the territory.
"I go about my job and look, I've been told that it has inspired other girls and other females to get involved, that it's given them the confidence to get involved. If it does inspire others, that's great but my primary objective is to be involved and to win games.
"I'm a winner. I'm really competitive; that's just in my nature. Do I want the conversation to continue? Not really. I'd like it to be normalised."
The St Martin's clubwoman is enjoying working with Davy Fitzgerald and his team.
"I'm loving it," she enthuses.
"I'm really enjoying it, the high performance element to the environment. Look, Davy's no fool. I'm competent at what I do; I'm professional in my role. He doesn't entertain substandard work nor do I. That's kind of where it stands. To be honest, he's been a real mentor for me through it all."
Most Read Stories