What they said … the weekend in quotes
February 11, 2019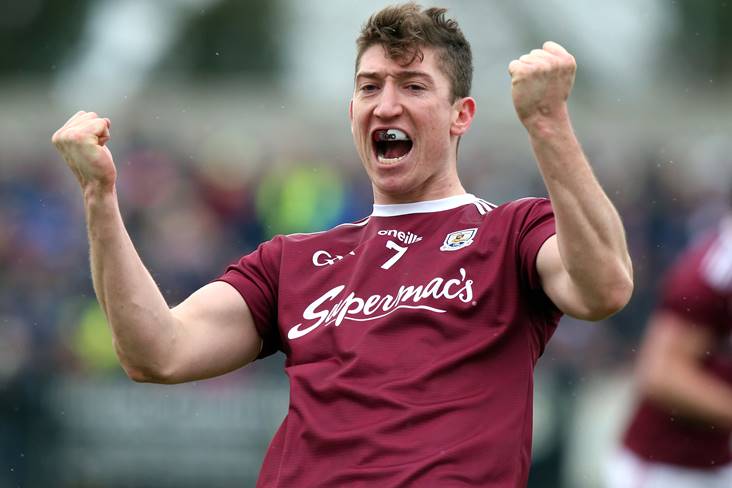 Galway's Johnny Heaney celebrates after the Allianz FL Division 1 round 3 victory over Monaghan at Grattan Park, Inniskeen. ©INPHO/John McVitty.
"I can confirm that's certainly not the case."
Jim Gavin poured cold water on reports that Diarmuid Connolly is undergoing one-to-one training sessions with Dublin's high performance manager Bryan Cullen in preparation for his return to the county set-up.
"You're talking about a team that are going for five-in-a-row this year and how many leagues have they won? You want to test yourself against whoever is the top dog."
Peter Keane took great satisfaction from the Kingdom's thrilling one-point success.
"He was superb the way he played, he was outstanding, simply outstanding tonight."
Mayo manager James Horan was fulsome in his praise of full-back Ger Cafferkey's performance against Cavan.
"A couple of decisions in the last couple of games haven't gone our way. In the various patches of the last three games we don't seem to getting the calls that the big teams are getting."
Mickey Graham claimed Evan Regan's goal for Mayo should have been disallowed.
"We felt at half-time that we had got ourselves in a good position and we were disappointed in the second half that we didn't push on."
After the high of the round 1 win over Dublin, Malachy O'Rourke's Monaghan fell to a second defeat in-a-row.
"Four out of six (points), you'd take it."
Tribe boss Kevin Walsh is happy with their league return to date considering the players that are unavailable to them at the moment.
"The ref changed the decision and I'm happy he did because it'd be an awful day going back up the road with no point. However bad it is to have one it would be worse to have none."
Mickey Harte was relieved after Noel Mooney reversed a decision to award Roscommon a free in right at the death at Dr Hyde Park and threw up the ball instead.
"I think in a lot of situations you don't get them overturned. It was quite harsh. We just take the referee's decision but it was a strange enough one."
Harte's Roscommon counterpart Anthony Cunningham wasn't impressed with the Cavan official's call.
"It was totally out of my control, the players have to take charge of it out there. They changed the pattern of play, we started to slow the ball down, we held on to it, we waited for the right opportunity to attack and we talking about getting frees at the right time and making sure we executed."
With their backs very much against the wall, Andy McEntee's Meath players dug deep to secure the two points against Armagh.
"Any time you play Meath it's going to be physical. I was laughing at Graham Reilly talking all week about how physical Armagh were – I was playing against Meath a long time ago and I don't ever remember them being too soft."
Orchard County boss Kieran McGeeney enjoyed the physical nature of the Pairc Tailteann contest if not the result.
"Delighted with that. I thought that was our best performance but to be honest I thought we have been the better team in our last two-and-a-half games. We made life difficult for ourselves and we missed a hell of a lot of chances."
Rory Gallagher guided Fermanagh to a two point victory over Kildare on Saturday evening.
"Our strength is the options we have in attack but our defensive shape is something we continuously work on and that is starting to pay dividends."
London boss Ciaran Deely plotted the downfall of his native Wexford in Ruislip yesterday.
"We have been privileged to be there before and we won't take this opportunity lightly either."
Henry Shefflin and Ballyhale Shamrocks are Croke Park bound on St Patrick's Day.
"We were happy at the break. But in a low-scoring game the goal was very much a killer blow."
A disappointed Ballygunner boss Fergal Hartley reflected on their five-point semi-final loss.
"It really was Roy of the Rovers stuff."
St Thomas' manager Kevin Lally hailed corner-back David Sherry's match winning heroics against Cushendall.'
"I thought we were going to win it. When we went level, I thought, 'there's enough time to win this match', but there was enough time to lose it as well."
It was a missed opportunity as far as Ruairi Og manager Eamon Gillan was concerned.
Most Read Stories