Christy Ring Cup round-up
May 12, 2018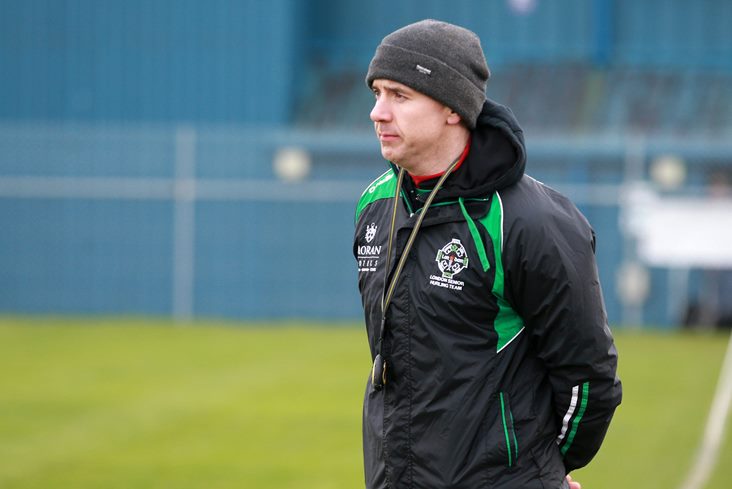 Fergus McMahon while in charge of London senior hurlers.
London got their Christy Ring Cup campaign off to a winning start at Derry's expense in Ballinascreen today.
Fergus McMahon's charges withstood a strong second-half rally from the hosts to run out 1-20 to 1-18 winners.
Boosted by Kevin O'Loughlin's first-half penalty goal, the Exiles took a 1-12 to 0-8 advantage into the break.
However, with the wind at their backs, the Oak Leafers got back on level terms with 10 minutes left on the clock (1-15 apiece) but London dug deep to eke out a two-point success.
Down, meanwhile, experienced little difficulty in disposing of 13-man Armagh by 6-21 to 0-11 in Ballycran.
The game was effectively over as a contest at the halfway stage with the Mourne County 3-13 to 0-5 ahead.
Daithi Sands bagged a hat-trick of goals for the winners while the Orchard County had a player sent-off in each half.
In Aughrim, Wicklow saw off Mayo by 1-20 to 2-11.
The Garden County made the most of wind advantage in the first-half to build up a 0-13 to 1-5 interval lead.
Substitute Seanie Germaine scored their only goal in the second-half while Eanna Ryan netted a late consolation three-pointer for the visitors.
Meanwhile, Barry Cormack and Martin Fitzgerald combined for 3-18 as Kildare had little trouble in beating Roscommon.
4-26 to 1-10 it finished in Newbridge. 
London - J Barrett; C Hickey, B Regan, L Murphy; C Burke, K Reid (0-1), C McAlinden; F Collins (0-1), O Shiel; K O'Loughlin (1-2, 1-0pen), R Murphy (0-3, 2f), H Vaughan (0-1); A Sheehan (0-10, 6f), C Nelson (0-1), S Lawless. Subs: M Dwyer for R Murphy, A O'Leary for L Murphy, J Troy (0-1) for O Shiel, C Lordan for S Lawless.
Derry - M Kirkpatrick; D McCloskey, S Cassidy, C Murphy; P Cleary, C McKenna, J Phelan; M McGuigan (0-1), C Waldron (0-1); C McKaigue (0-2), M McGrath, C O'Doherty (0-11, 9f); S McGuigan (1-0), B Rogers, N Waldron (0-3). Subs: C Steele for J Phelan, B Cassidy for C Steele.
Referee - J Keane.
**
Down - S Keith; B Byers, P McManus, M Hughes; M Fisher (0-1), R McCrickard, L Savage; M Magee (0-2), D McManus (1-0); P Og McCrickard, C Bailie (0-2), P Sheehan (0-7, 5f); D Sands (3-3), D Toner (0-2), E Sands (1-3). Subs: O McManus (1-1) for C Bailie, E Coulter for B Byers, J Crowe for S Keith, T Murray for P Sheehan, P McManus for M Fisher.
Armagh - F Woods; O Curry, P Gaffney, A Fox; C Clifford, A McGuinness, D Bridges; N Curry (0-7, 6f), J Corvan; D McKenna, P McGrain, S Renaghan (0-1); D McCreesh (0-2), E McGuinness, B Short. Subs: D Magee (0-1) for B Short, C McAnallen for D McCreesh, D Grant for O Curry, G McKeown for A McGuinness, D Gaffney for S Renaghan.
Referee - A Devine.
**
Wicklow - R Fitzgerald; P Keane, W Kavanagh, M O'Brien; G Byrne (0-1), J Henderson, E Kearns; R Keddy, D Staunton (0-1); PJ Nolan (0-2), A Byrne, C Moorehouse (0-2); G O'Brien (0-1), A O'Brien (0-8, 5f), M Lee (0-4). Subs: S Germaine (1-1) for G O'Brien, B Cuddihy for R Keddy, E Donohoe for PJ Nolan, J Doyle for A O'Brien.
Mayo - D O'Brien; A Lyons, C Daly, S Mulroy; C Henry, D Kenny, D McGreal; K McDermott, B Hunt; E Ryan (1-0), K Feeney (0-9, 8f), P Kiely (0-1); B Morley, C Scahill (1-0), S Boland (0-1). Subs: M Morley for A Lyons, B Douglas for C Scahill, C Murray for D McGreal, D McTighe for P Kiely, M Parsons for D O'Brien.
Referee - P Burke.
**
Kildare - P McKenna; C Forde, J Doran, P O'Sullivan; E O'Neill (0-1), M Moloney, M Grace (0-1); N O Muineachain (0-1), B Cormack (0-15, 11f, 1'65); M Purcell (0-1), P Divilly (0-3, 1f), K Whelan (0-1); B Byrne, M Fitzgerald (3-3), S Ryan (1-0). Subs: D Brereton for M Moloney, C Bonus for B Byrne, B Deay for K Whelan, M Delaney for M Fitzgerald, T Forde for M Purcell, S Lacey for T Forde, S Gainey for P Divilly.
Roscommon - J Keane (0-1f); P Nolan, M Beirne, A Moore (0-1); K Hardiman, J Kilkenny (0-1), E Flanagan; D Heavey, S Curley; D Glynn (0-4, 2f), C Egan, N Connaughton (1-2); C Kenny, R Fallon (0-1f), C Kelly. Subs: W Boyle for D Heavey, J Murray for D Glynn, H Rooney for M Beirne, J Brennan for P Nolan, R Kilcline for S Curley.
Referee - S Hynes.
Most Read Stories