"It's almost like there's something more sinister at play"
March 21, 2018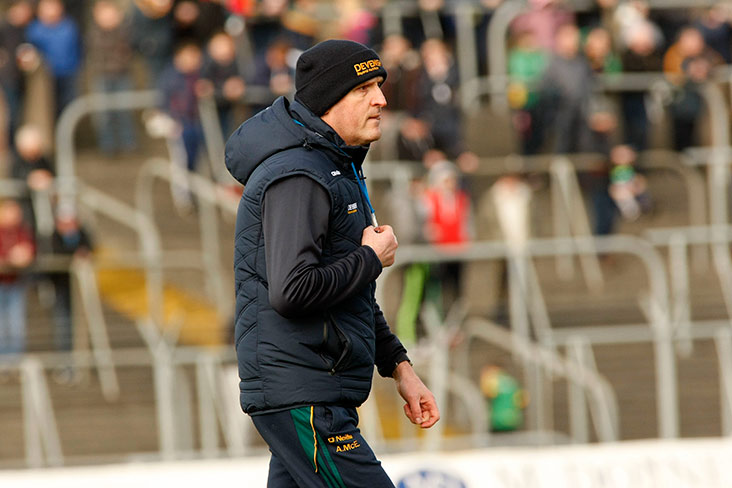 Meath manager Andy McEntee
Meath manager Andy McEntee is unhappy about the manner in which the Royals' Division Two clash was twice postponed over the weekend.
The Round Six national football league game was initially scheduled for Drogheda on Sunday afternoon but was called off due to snow and provisionally refixed for Bank Holiday Monday. On Monday morning, it was axed again, bringing to five the number of times Meath have had matches postponed this year. McEntee feels the powers that be handled the situation badly and questions why the Royal camp weren't provided with more information on Sunday:
"There is a volume of opinion that Louth knew at some stage on Sunday the game wouldn't be going ahead because we believe they trained on Sunday,"  he told The Irish Sun. "We sent an email on Sunday to the GAA asking if it was ­possible to find out on Sunday night if the game was on or off. If it was going to be called off then we wanted to know on Sunday night so we could tell our players.
"Our players have gone through this already this season. We had to tell them on Sunday morning the game was not going ahead on the Sunday but it might be going ahead on Monday, so they had to be ready for that scenario. Then we had to tell them on Monday morning it would not be going ahead on the Monday. It is very unfair on players.
"So that's why we wanted to find out on Sunday night. But we got a reply saying that we would find out at the same time as everybody else, that there would be pitch inspections in the morning. And yet it seems that Louth knew before that.
"To say we are disappointed and frustrated by the way this has been handled is putting it mildly, it's almost like there's something more sinister at play. Maybe there were people putting pressure to make these calls.
"It possibly suited the GAA to have two games in the division postponed."
Most Read Stories