Coen reckons Galway warming up for big season
February 28, 2018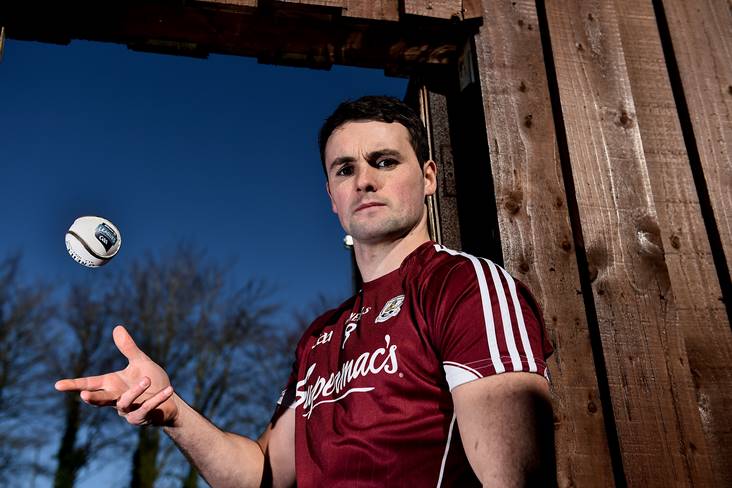 Galway's Johnny Coen ©Sportsfile
by Declan Rooney and Shane Corrigan

Galway's Johnny Coen says he is confident that the squad have left their early season bluntness behind as they prepare to face Limerick in Sunday's Division 1B promotion decider.
Both teams have beaten Dublin, Offaly, Antrim and Laois already in this year's competition, and the winner of Sunday's clash in Pearse Stadium will clinch the one top flight slot up for grabs.
As All-Ireland champions Galway had plenty of celebration to enjoy all winter, but after sub par performances again Laois and especially Antrim in Round 1, Coen believes his side has showed signs of improvement.

"It's been a bit of a mixed bag for us. We struggled a bit against Antrim the first day but we've been improving since and hopefully we can put in another performance on Sunday.
"There's been a few niggling injuries there throughout the campaign so far. We'd Gearoid McInerney out and then a few lads involved with NUIG in the Fitzgibbon Cup but they're back now, so hopefully we can get the win in Salthill on Sunday.
"We're looking forward to it. Limerick have hit the ground running with four wins from four, so it's a huge game for us on Sunday."
Team holidays to Mexico and USA, an All Star trip for many to Singapore and the Fenway Classic in Boston resulted in a tight schedule for the squad since September, and when you add in the endless school visits with the league, Leinster and Liam MacCarthy cups it was inevitable that hurling would suffer as a result.
But Coen has absolutely no regrets about the days since September. Major achievements need to be embraced, he says.
"At the end of the day, you put your whole life on hold for the All-Ireland and when you win it you might as well celebrate it. We've made no secrets of how much we've celebrated or anything like that. 
"There was huge euphoria around the county and the people of Galway were absolutely delighted with the performance and delighted with the players and I suppose we tried to share the joy with bringing the cup around to all the schools and parishes then as well. I think everybody really enjoyed it.
"It was the stuff of dreams really. When you grow up you think of winning the All-Ireland but bringing the cup back to your home town, bringing it back into Galway to the people that you've grown up with and the people that really care about you, and literally handing the cup to them. 
"The joy and the huge amount of emotion and acceptance as well: it's something that will live with me a long time."
It was an impressive run through the spring and summer last year for Galway with their only defeat coming in the league against Wexford in Pearse Stadium, a loss that ended their hopes of promotion to Division 1A. Victory on Sunday against Limerick would be their 15th in a row and would condemn Limerick to a ninth season in the second tier. 
"The game against Wexford last year was a bit of a defining moment for us really. It was a game we expected to win, a game we wanted to win. 
"We said to ourselves it wasn't going to happen again and we haven't looked back since. We've four from four this year then as well. The game on Sunday is going to pose a huge challenge for us."
Last summer the route to the All-Ireland final was clear: win Leinster to get to an All-Ireland semi-final. This year with the new round robin series in the province, things are more opaque, but the Loughrea man has confidence that their preparation will be right.
"If you get any niggly injuries or that, with the new format coming in you could be playing for matches in four weeks, so the panel is really going to be tested. 
"You want to be looking for 23 or 24 lads to be putting their hands up for starting places come championship.
"It's no secret really that our strength and conditioning coach, Lucas Kirszenstein, has a huge pedigree under his belt and we fully believe in what he's doing. We are not fully sure what he's doing at times we just go ahead and do it. 
"We believe in what he is doing, be it gym work on a Tuesday or a bit of running on a Thursday, we just do it."
Most Read Stories