Cummins criticises Gilroy for bringing back veterans
February 19, 2018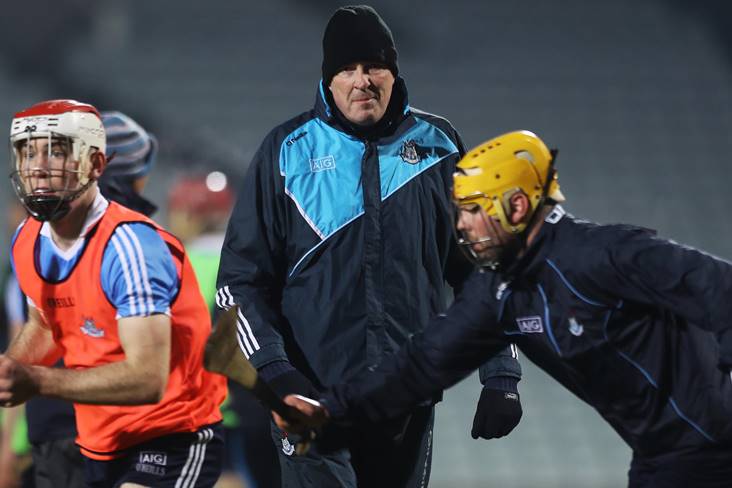 Dublin manager Pat Gilroy.
©INPHO/Lorraine O'Sullivan.
Brendan Cummins believes it was a mistake on Pat Gilroy's part to bring Conal Keaney and Alan Nolan back into the Dublin hurling fold.
The Dubs have failed to live up to expectations in Division 1B of the Allianz League so far and Cummins feels the decision to bring back the veteran duo has backfired on the new manager.
"I think Pat Gilroy would have expected a bigger bounce," the former Tipperary goalkeeper told Allianz League Sunday on RTÉ.
"He brought Conal Keaney back, (Alan) Nolan in the goals. I just feel when he made that decision he looked backwards rather than forwards.
"I think it was important to give younger fellas an opportunity. He's probably going to have to go back to them. Conal Keaney has done okay but if I was a 22-year-old or 23-year-old hurler in Dublin I'd be saying, 'well Conal Keaney, they've gone back for him, what am I doing here on the panel?'
"And of course the guy who'd really light up Dublin hurling, Con O'Callaghan, will be putting the hurley in the corner of the room unfortunately and going back to playing the big ball.
"So, difficult times in Dublin hurling and there's no guarantees they're going to get out of that relegation.
"They've to play Laois, they could lose to Galway next weekend, Laois could beat Offaly. There are a huge amount of permutations left yet, but a lot of work to be done."
Most Read Stories