Sacrifices aren't a problem for McGrath
January 10, 2018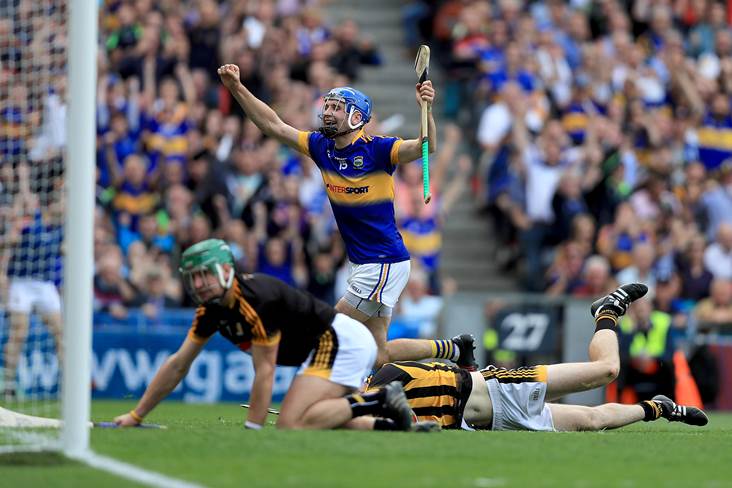 Tipperary's John McGrath celebrates scoring a goal against Kilkenny.
©INPHO/Donall Farmer.
Tipperary star John McGrath says he has no problems with making the sacrifices expected of an inter-county player, especially if it means winning another Liam MacCarthy Cup.
McGrath's former Tipp team mate Kieran Bergin claimed last week in an interview that demands on players these days are too enormous, claiming that some are asked to "give up drink for the entire year".
McGrath, however, feels that players can enjoy a healthy social life while also upholding their inter-county commitments.
"I think most lads know themselves that if you are coming up to a game you are fooling yourself really if you think you are going to get away with going out and then being able to perform," McGrath is quoted saying by the Irish Independent.
"You have to look after yourself outside of the game. If not you are probably letting yourself down in that you are not able to perform to your ability. And your team-mates then that are looking after themselves morning, noon and night - you are letting them down as well.
"I think there is just a general understanding between our panel at the moment with what's acceptable and what's not. Once lads stay within reason there's no issue there."
He added: "I think you hear of some panels where that does go on (total drink bans), where they are just completely told 'no' like. I think that's wrong too. Like, we will get our few nights out here and there every so often, depending on how our training is fixed up and that. Lads had most of Christmas there to enjoy themselves. I was away on holidays once and twice and that. If you plan it well.
"I'm hoping to be involved until next August with Tipp so between last September and now I've done what I want to do and gone where I want to go."
Most Read Stories