Replicas of Liam MacCarthy Cups doing the rounds in Galway
December 22, 2017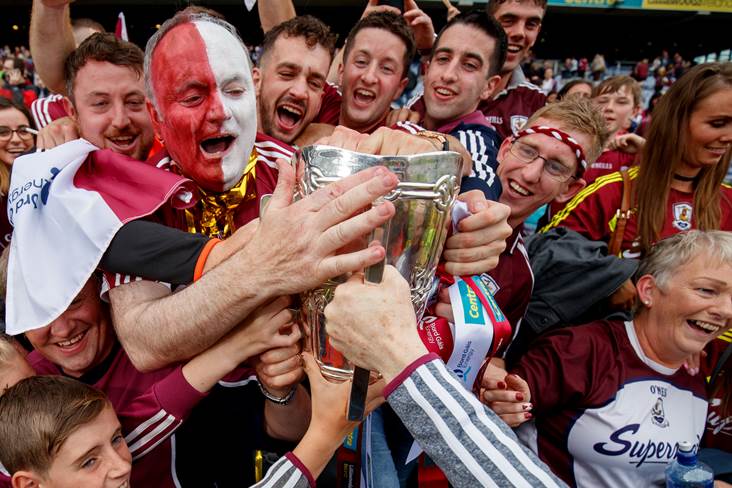 Galway fans celebrate with the Liam MacCarthy Cup.
©INPHO/James Crombie.
by John Fallon
Galway's first All-Ireland senior hurling title in 29 years is expected to see a surge in the numbers playing the game in the county but it would appear that the success has also led to extra work for some silversmiths with at least two replica Liam MacCarthy Cups in circulation.
A spokesperson for Croke Park has confirmed that Galway captain David Burke was presented with the real Liam MacCarthy Cup in September when they defeated Waterford in the final, and Galway GAA are adamant that this is the only trophy which they are bringing around the county.
But it appears that at least two other replica trophies have been doing the rounds over the past few months, often at commercial or social events. These are being circulated by people not involved with the team or the county committee but are connected to the GAA.
The issue of a possible replica trophy came to light in October when it appeared at an event at the same time that the real cup was brought to a function by members of the team.
Galway county committee chairman Pat Kearney stressed that the only trophy they circulate is the cup they were presented with in Croke Park in September.
He said that they hope to bring the cup to every school and club in the county and that there has been huge demand for it and they are anxious that everyone gets a chance to have it.
He said he had heard suggestions that a replica or two were in circulation and urged anyone looking to have the trophy to go through official county committee channels to get it.
"As far as I am concerned we have one cup. We have heard reports of replica cups. We have one cup and Croke Park will probably be making some policy on that. The MacCarthy is prized and we fought hard for 29 years for that. We won't be going around with any replica cup," he said.
Kearney said that there was a procedure in place, headed up by hurling committee chairman Michael Larkin, to organise and oversee the visits by the cup to clubs, schools and other places and he urged anyone wanting to have the cup to go through the correct channels.
"They have to come to county board. It's doing nine or ten visits every day. We have a minder for the cup, Michael Larkin has a diary for the cup and the book is full. His heart is broken with it and he is doing an excellent job with it.
"Our aim is to get it to all schools early in the new year. We have the one cup and we are proud to have it and let as many people as possible see it and hold it," added Kearney.
A spokesperson for Croke Park said they would be very concerned if replicas of the Liam MacCarthy, Sam Maguire or other cups were being used and masqueraded as the real trophy.
He said that the Liam McCarthy Cup and the Sam Maguire Cup were governed by copyright since new versions of the trophies were made almost three decades ago.
"It is unacceptable that replicas or any of our trophies be made and circulated and we would welcome any information on this," he said.
The spokesperson confirmed that an official replica of the Liam MacCarthy Cup had been made and was used occasionally for promotional purposes by Croke Park but use of this was under strict governance and it was never used in public.
He also confirmed that the trophy presented to Galway captain David Burke following their 0-26 to 2-17 win over Waterford on September 3 was the real Liam MacCarthy Cup.
Most Read Stories