Westmeath GAA proudly supporting Milltown's Smith Family Fundraiser
May 13, 2019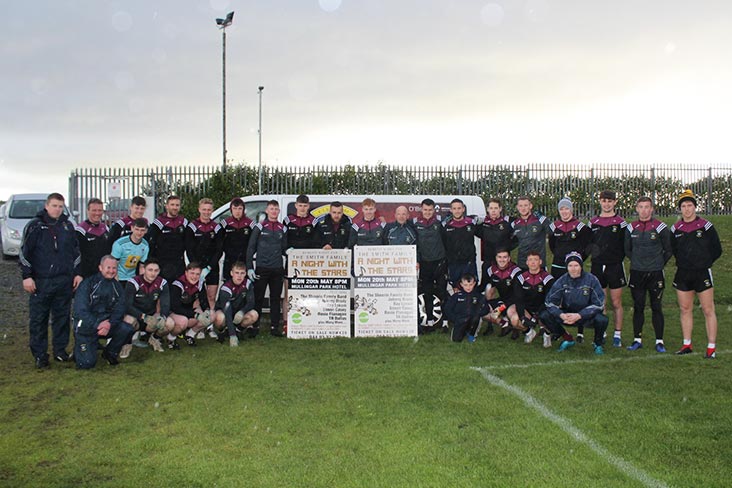 Westmeath GAA are proudly supporting Milltown GAAs Smith Family Benefit Night with the Stars
Westmeath GAA proudly supporting Milltown's Smith Family Fundraiser
Westmeath GAA are proudly supporting Milltown GAA's Smith Family Benefit Night with the Stars taking place in the Mullingar Park Hotel next Monday, May 20.
The Smith Family Fundraiser Organising Committee are asking for donations and support for the family of Gary Smith who tragically lost his life on the 12th of March. On that fateful morning Gary said goodbye to his kids as they left for school and to his wife Gena (Nee Dillon) as any normal day and little did anyone know that was going to be the last goodbye. Gary was a loving and hardworking husband to Gena, and father to the 5 young children. The family are heart broken by this untimely death and really need your support at this time. Unfortunately, this family are now experiencing severe financial hardship as a result of a lapse in the life insurance policy for Gary.

As well as we all know, sometimes life takes a turn for the worst without any timetable and we are forced into positions which cause even further hardship. Don't take life for granted because in the blink of an eye everything can change. The Smith/Dillon family who are much loved members of the Milltown community now need your support. The Smith Family Fundraising Committee was set up to help the Smith/Dillon family at this awful time, and while we know we can't ever replace their father and husband, we want to try and bring them some security and comfort.

To benefit the Smith family, there is a 'Night With The Stars' planned for the Mullingar Park Hotel on Monday 20th May, with a huge host of massive music stars including the Sheerin Family Band, Johnny Brady, Simon Casey, Ray Lynam, TR Dallas & more, who have all very kindly offered their services to aid this worthy cause.

The Doors are from 7.30pm, and tickets are priced at €30 with a brilliant night of entertainment in store.
Tickets will be available from:
• Martin Lynn or any of the organising committee, contact (086) 827 7714
• Nallys Topaz/Spar Ballymahon (090) 643 2021
• Rochforts Superstore Mullingar (044) 934 0626
• Rooney's Pub Ballymore (044) 935 6264
• McCawleys Pub Moyvore (044) 935 5126
• Mullingar Park Hotel (044) 935 5126
For more info visit Milltown GAAs Facebook Page and if you can't make it on the night and would still like to contribute, you can visit the GoFundMe page or search for 'Smith Family Ireland' and donate whatever you can afford.
Most Read Stories