"Win, lose or draw Jimmy's our No.1"
May 15, 2018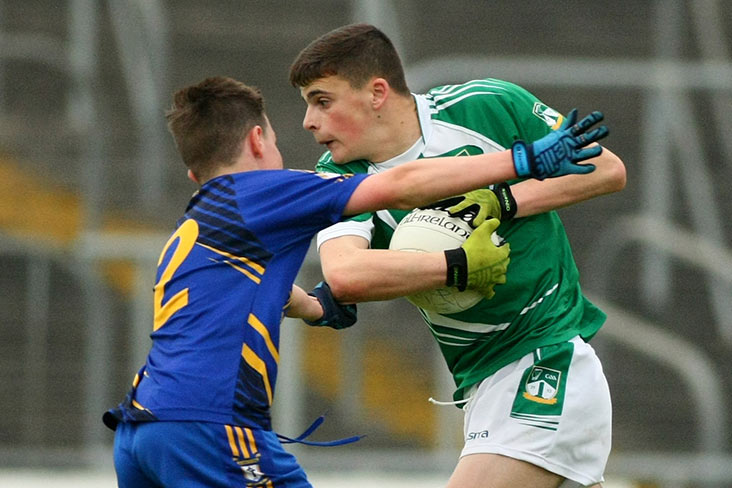 Jimmy Corcoran in action for Round Towers
Luckless Republic of Ireland U17 goalkeeper Jimmy Corcoran has received a thumbs up from his GAA club in Meath.
The 16-year-old Preston North End stopper is a product of the Drumbaragh Emmets GAA club in the Royal County and the Kells lad looked like he has secured hero status last night when he dived to his right and brilliantly saved Daishawn Redan's effort during the Republic's ill-fated Under-17 European Championship quarter-final clash with Holland in Chesterfield.
Astonishingly, however, the Czech referee deemed that former Meath U14 star Corcoran had advanced off his line and not only ordered that the penalty be retaken but also controversially issued the Irish 'keeper with a yellow card. As it was his second yellow card of the night, he was sent off and Ireland had to put outfield player Oisin McEntee between the posts for the retaken kick, which was scored.
It was a cruel way for Ireland to exit the competition and senior manager Martin O'Neill, who was in attendance, stormed onto the pitch afterwards to give the officials a piece of his mind.
Following their own 'B' league defeat to Kilbride last night, Drumbaragh Emmets took to Facebook to salute their protégé:
"WIN, LOSE OR DRAW JIMMY'S OUR NO.1
"We got the absolute sh1t kicked out of us tonight in the BFL. But the roar coming out of the dressing room when Jimmy Corcoran saved the spot kick almost sent the clubhouse roof into orbit! The Kilbride lads scratching their heads in the visiting dressing room wondering what the hell was going on! 30 of Jimmy's clubmates huddled around a mobile phone all beeming with pride.
"Whatever happened afterwards will rumble on for a few days, but to every man, woman and child in the club - we are incredibly proud of the international you have become.
"There will be plenty more big days ahead for the Irish No.1."
Most Read Stories