Wicklow GAA rallies to 'Help Get Kevin Home' fundraiser
May 28, 2020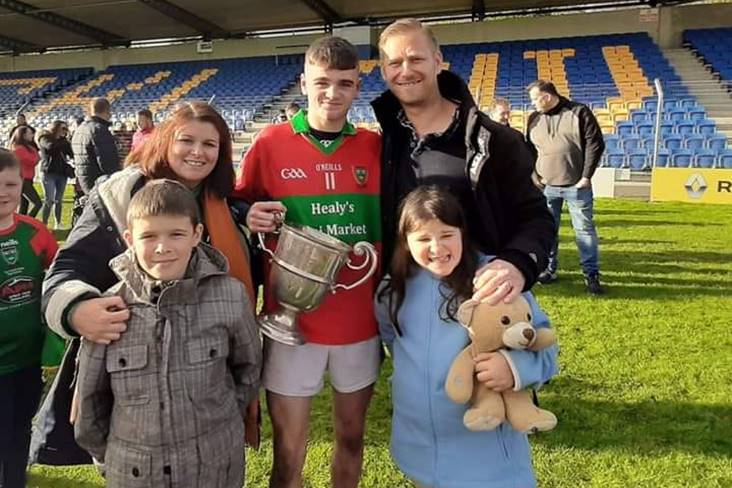 A proud Kevin Moore with his wife Emma and their three children Toby, Kealen and Robyn. Toby helped Rathnew to minor football championship success in 2017.
The GAA community in Wicklow are getting behind the recently launched 'Help Get Kevin Home' fundraiser, which is raising money for Kevin Moore who suffered a massive stroke last January.
The 'Help Get Kevin Home' GoFundMe page was set up last night and over €11,992 of a goal of €50,000 has been raised already.
Kevin beat the odds after being given less than a 1% chance of survival by medical staff at Beaumont Hospital where he underwent two high risk surgeries to stop bleeding and reduce swelling on his brain and was placed in a medically induced coma to allow his brain to repair and recover from such a severe trauma.
The 40-year-old has a long road to recovery as he undergoes months of intensive, carefully planned therapy, in order to allow him to regain use of his left-hand side and learn to walk again, at the National Rehabilitation Hospital.
The ongoing Covid-19 pandemic has made things more difficult for Kevin, his wife Emma and their three children Toby, Kealen and Robyn whom he hasn't seen since March.
Kevin's family hope to have him back home by August, however, major alterations to the family home are required to meet his needs from wheelchair accessible hallways to stair lifts to modified bath and bedroom facilities.
To donate to 'Help Get Kevin Home', click here.
Most Read Stories