FL3 round-up: Down and Cork do just enough
February 22, 2020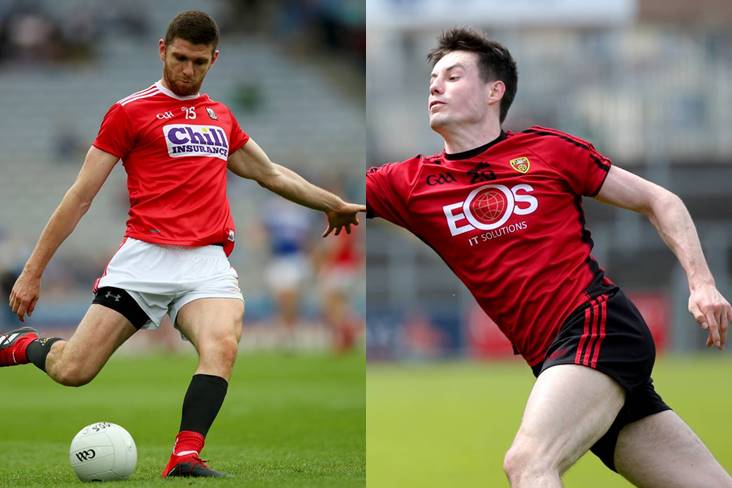 Cork's Luke Connolly and James Guinness of Down.
Margins were tight in tonight's two Division Three matches, which saw Cork and Down claim narrow victories over Tipperary and Longford respectively.
At Thurles, unlucky losers Tipp produced a superb performance against the Rebels, who prevailed by 3-13 to 0-21 thanks to two second-half goals from Luke Connolly.
David Power's charges led by 0-12 to 1-6 at the break, Ruairi Deane netting for the visitors, and further scores from Jack Kennedy and Liam Boland nudged the Premier County five clear within four minutes of the restart. Connolly's first goal came from a penalty and his second on 48 minutes pushed the Leesiders ahead for the first time as they just about claimed their fourth successive victory.
At Newry, meanwhile, James Guinness netted late on to give Down a battling 2-13 to 1-14 win over Longford. The Mourne County led by 0-9 to 0-7 at half time but Liam Connerton's goal followed by a Dessie Reynolds point brought the unbeaten midlanders back on terms (1-8 to 0-11) only for Corey Quinn to quickly reply with the home side's first three-pointer in the 62nd minute - 1-13 to 1-10.
In a thrilling finale, substitute Guinness pounced for the decisive score.
Cork - MA Martin; P Ring, S Powter (0-1), J Loughrey; T Clancy, M Taylor (0-1), C Kiely (0-1); I Maguire, K O'Hanlon; J O'Rourke (0-2), S White, B Hartnett; R Deane (1-0), L Connolly (2-2, 1-0pen, 0-1f, 0-1m), C O'Mahony (0-5, 2f). Subs: C Sheehan (0-1) for S White, L O'Donovan for C Kiely, C O'Callaghan for C O'Mahony, P Walsh for S Powter, K O'Driscoll for K O'Hanlon.
Tipperary - E Comerford (0-1'45); A Campbell, J Meagher, T Fitzgerald; K Fahey, R Kiely, B Maher; S O'Brien (0-2), J Kennedy (0-5, 4f); E Moloney (0-2), Colman Kennedy (0-1), B Fox (0-1); C Sweeney (0-4f), R Quigley (0-2), S O'Connor (0-1m). Subs: L Boland (0-2) for Colman Kennedy, L Fahey for K Fahey, J Lonergan for S O'Connor, K O'Halloran for R Quigley, J Niland for E Moloney.
Referee - B Cawley.
**
Down - R Burns; S Annett, P Murdock, R McAleenan; G Collins, D O'Hagan (0-1), B McArdle; J Flynn (0-2), D Guinness; B O'Hagan (0-3, 2f), K McKernan (0-1), L Kerr (0-2); D O'Hare (0-2, 1f), A Morgan, C Quinn (1-2). Subs: P Fegan for S Annett, J Guinness (1-0) for G Collins, O McCabe for A Morgan, C Doherty for K McKernan, N Donnelly for C Quinn.
Longford - P Collum (0-2f); P Fox, A Farrell, B O'Farrell; I O'Sullivan, G Rogers, CP Smyth; D Gallagher (0-5, 3f), K Diffley; M Quinn, D McElligott, D Reynolds (0-1); P Lynn (0-2), L Connerton (1-1), O Kenny. Subs: D Doherty for P Lynn, D Mimnagh (0-3, 2f) for CP Smyth, J Hagan for L Connerton.
Referee - C Reilly.
Most Read Stories