FL top scorers: Rock takes up the running
February 19, 2020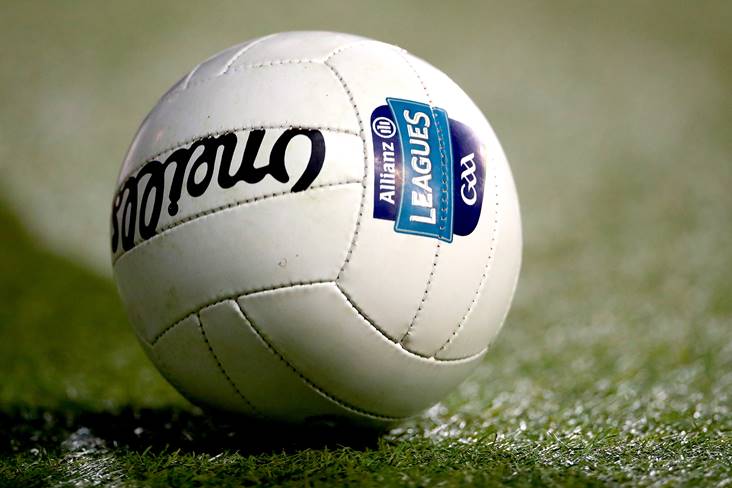 The race is on - Allianz Football League scoring charts.
Dean Rock is currently the top scorer in the Allianz Football League on 2-15.
The Dublin sharpshooter has registered individual tallies of 1-6 (v Kerry), 1-3 (v Mayo) and 0-6 (v Monaghan) in the campaign so far. His nearest rivals are Donegal's Michael Murphy (2-13) and Antrim's Paddy Cunningham (0-19). Kerry's David Clifford, Tyrone's Darren McCurry and Derry's Shane McGuigan are next on 1-15 apiece.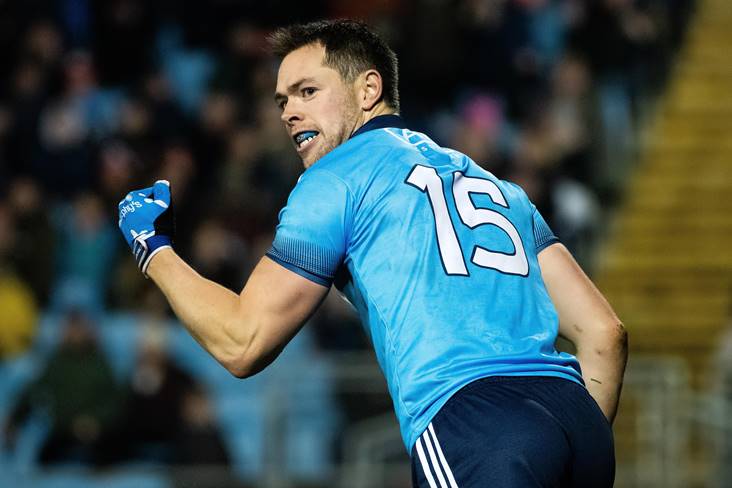 Dublin's Dean Rock celebrates after scoring a goal. ©INPHO/Evan Logan.
Keith Beirne was the leader after round two but the Leitrim man has slipped down the pecking order after drawing a blank in his side's defeat to Cork.
Overall league top scorers:
Dean Rock, Dublin 2-15 (21)
Michael Murphy, Donegal 2-13 (19)
Paddy Cunningham, Antrim 0-19 (19)
David Clifford, Kerry 1-15 (18)
Darren McCurry, Tyrone 1-15 (18)
Shane McGuigan, Derry 1-15 (18)
Shane Walsh, Galway 1-14 (17)
Evan O'Carroll, Laois 1-14 (17)
Conall Jones, Fermanagh 0-16 (16)
Keith Beirne, Leitrim 0-16 (16)
Division 1
Dean Rock, Dublin 2-15 (21)
Michael Murphy, Donegal 2-13 (19)
David Clifford, Kerry 1-15 (18)
Darren McCurry, Tyrone 1-15 (18)
Shane Walsh, Galway 1-14 (17)
Conor McManus, Monaghan 1-12 (15)
Division 2
Evan O'Carroll, Laois 1-14 (17)
Conall Jones, Fermanagh 0-16 (16)
John Heslin, Westmeath 0-13 (13)
Rian O'Neill, Armagh 0-11 (11)
David Tubridy, Clare 0-11 (11)
Conor Turbitt, Armagh 1-7 (10)
Cian McKeon, Roscommon 0-10 (10)
Division 3
Shane McGuigan, Derry 1-15 (18)
Keith Beirne, Leitrim 0-16 (16)
Darren Gallagher, Longford 0-14 (14)
Ruairi McNamee, Offaly 1-10 (13)
Donal O'Hare, Down 0-11 (11)
Bernard Allen, Offaly 0-11 (11)
Conor Sweeney, Tipperary 0-11 (11)
Division 4
Paddy Cunningham, Antrim 0-19 (19)
Ben Brosnan, Wexford 2-9 (15)
Liam Gavaghan, London 0-13 (13)
Patrick O'Connor, Sligo 1-9 (12)
Seanie Furlong, Wicklow 1-9 (12)
Liam Gaughan, Sligo 0-10 (10)
Jason Curry, Waterford 0-10 (10)
Goalscoring charts:
Michael Murphy (Donegal) 2
Dean Rock (Dublin) 2
Johnny Heaney (Galway) 2
Stephen Murray (Cavan) 2
Ruairi McCann (Antrim) 2
Pat Hughes (Sligo) 2
Ben Brosnan (Wexford) 2
Highest individual scores from each round:
Round 1
Dean Rock (Dublin v Kerry) 1-6
Darren McCurry (Tyrone v Meath) 1-6
Conor Turbitt (Armagh v Cavan) 1-6
Evan O'Carroll (Laois v Roscommon) 1-6
Keith Beirne (Leitrim v Derry) 0-9
Round 2
Paddy Cunningham (Antrim v Sligo) 0-9
Round 3
Conor McManus (Monaghan v Dublin) 1-4
Ruairi McNamee (Offaly v Louth) 1-4
Shane McGuigan (Derry v Tipperary) 0-7
Most Read Stories