Ryan hopeful feelgood factor in Borrisokane CC can spread
March 22, 2019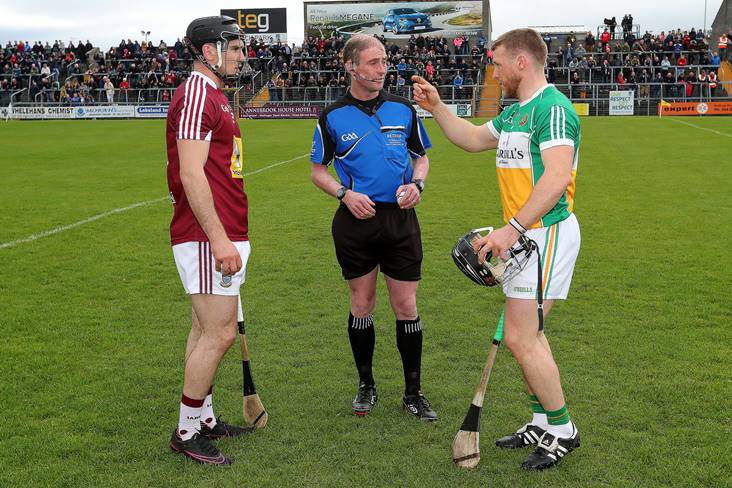 Referee Sean Cleere with Westmeath captain Aonghus Clarke and Offaly captain Sean Ryan. ©INPHO/Bryan Keane.
by Damian Lawlor
Former Offaly dual player Sean Ryan seems to have taken management in his stride despite retiring from the intercounty scene just over a year ago.
Ryan has led his hardworking Borrisokane CC side into the final of the Masita GAA Michael Cusack Cup, the All Ireland Post-Primary 'C' series and stands just one game away now from clinching a badly-needed All-Ireland title.
They play Coláiste na Coiribe (Galway) at Athlone tomorrow.
Through the hard work of retired teacher TJ Egan and others, Borrisokane CC - then Borrisokane VS- was a hurling powerhouse at 'A' level during the 1990s. But in recent years silverware has not forced the school cabinets to creak.
However, the vision and hard work of Birr man, Ryan, among others, is now evident as the college go in search of the Cusack Cup.
Ryan recently called time on his inter-county career after 13 seasons of service to the Faithful which saw him accumulate 95 competitive appearances between league and championship in both codes.
A loyal servant to the Offaly cause, he debuted for the footballers under Kevin Kilmurray in 2006 when they were plying their trade in Division 1A and featured off the bench against Cork, Mayo, Tyrone, Kerry and Monaghan.
The following year he tried both codes with great success and made his senior hurling debut at midfield under John McIntyre in their four-point Qualifier defeat to Tipperary, finishing with an impressive tally of 1-2.
Despite Offaly's fortunes wavering, Ryan stayed loyal to the hurlers for the last six years and was captain in 2017 with his last appearance coming in their disappointing 2018 Leinster SHC round-robin defeat to Dublin in June.
Now the Birr man is also excelling in a managerial role.
He saw his Borrisokane side qualify for the Masita GAA Post Primary Schools Cusack Cup final following a defeat of Colásite Naomh Cormac 1-15 to 0-14 in his home pitch, Birr, three weeks ago. Before that they had defeated St. Anne's Community College, Killaloe in the Munster Post Primary Schools Senior 'C' Hurling final last Saturday.

Ryan's side, unsurprisingly, play with great heart and tenacity. And he doesn't care what club they are from. If they are good enough for his team they will play.
"It would be all the one to me if I had 15 Borrisokane players on the starting team," he says. "Just as long as they are worthy of a place. We have lots of clubs providing players and if they are worth their position they play."
The lionhearted Sean McAdams is proving a real backbone of the side whilst Neill Connelly is a very dangerous forward. At the back Paidi Williams, Matthew Tierney, Michael Slattery and Jack Mahoney have all played their part in the successful run.
But Ryan says it's a team template that their development is built upon and not the work of individuals.
"We are modelled on hard work," the manager states.
"The lads know how close we are to winning this cup and they have done everything I have asked of them.
"For instance, on occasions where I have been a bit late getting out of school and onto the pitch for training, maybe a few minutes after 4pm, the boys have already begun the training session without me. They are self-starters and they listen to everything we tell them."
As stated earlier, Borrisokane have had a fine tradition of hurling down through the years. Back in their era as a vocational school they were market leaders, powered by the guidance and vision of TJ Egan.
But success has been slim enough in recent times.
Ryan hopes that's all about to change.
"Well, you come in here," the woodwork teacher says. "And the lads are everywhere tipping around with their hurleys and sliotars.
"They love the game and they are around hurling the whole time. So, you kind of wonder why they haven't been winning so much.
"But from the moment I came in I could see that the bones of a good team was in place and we have worked exceptionally hard to get up the ranks.
"We have had a long road to get here, trained hard over the Christmas and mid term breaks, and we played a lot of 'B' teams in challenge games and held our own.
"Hopefully now we can perform well in the final."
Ryan knows too well that the schools' model, if successful, can have great knock-on effects for the county.
He saw it at first hand in Offaly when they won All-Irelands on the back of successful schools and colleges teams.
How they need that impetus again after being consigned to the third tier of hurling following an agonising defeat to Carlow last weekend.
"Look, there is a lot of hard work going on at ground level," Ryan maintains.
"And the fact that there is a Centre of Excellence in Kilcormac up and running is a huge help. Many's a time when I would be in the car driving for training and waiting for a text to see where we would be at that night.
"Now at least everyone knows where the base is.
"We just have to keep at it, try to get out of the Joe McDonagh Cup which won't be easy. A lot of other counties – the likes of Laois and Westmeath have made serious strides and we know nothing is for granted,
"But you can see here at Borrisokane the feelgood factor is going to spread beyond the school. And it would be great to see the same happening in Offaly."
Join the hoganstand.com match tracker on Sunday afternoon for live coverage of the final round of the football leagues, plus the hurling league semi-finals at Nowlan Park.
Most Read Stories