HL2B/3A/3B round up: Wicklow, Roscommon and Longford achieve promotion
March 10, 2019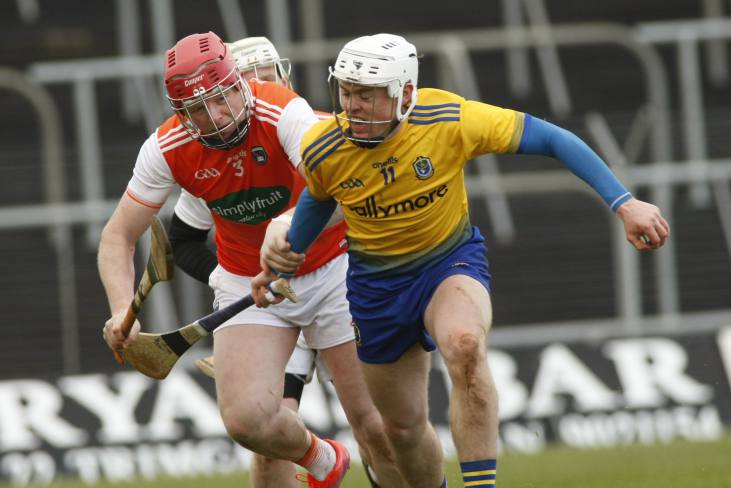 Armagh's Artie McGuinness with Cillian Egan Roscommon during the NHL Division 3A final at Pairc Tailteann
Wicklow, Roscommon and Longford all got their hands on silverware today.
Wicklow pipped Derry to the Division 2B title and promotion on a scoreline of 1-9 to 0-8 at Inniskeen.
Michael Boland netted the game's only goal late on to turn the tide in the Garden County's favour.
The Oak Leafers had led by 0-5 to 0-3 at the halfway stage.
In Pairc Tailteann, Roscommon secured promotion to Division 2B for next year when getting the better of Armagh by 0-14 to 0-11.
Extra-time was required to separate Longford and Sligo in the Division 3B final at the Connacht GAA Centre.
Longford emerged victorious by 2-15 to 3-10.
Wicklow - C Staunton; B Kearney, B Cuddihy, M O'Brien; G Byrne, S Kelly, W Kavanagh; J Henderson, J Doyle; E McCormack (0-2), E Donohue (0-1), D Staunton; C Moorehouse (0-2f), A O'Brien (0-2), J O'Neill. Subs: E Kearns (0-2) for B Kearney, M Boland (1-0) for J O'Neill, L Evans for E Donohue, R Keddy for C Moorehouse.
Derry - S Kelly; P Kelly, S Cassidy, R McCartney; C Kelly, B Og McGilligan, L Hinphey; T Brady, P Cleary; G Bradley, R Mullan (0-5, 4f), M McGuigan; C Waldron, S McGuigan (0-1), M McGrath. Subs: B Rogers (0-2) for B Og McGilligan, J Mullan for T Brady, N Waldron for P Cleary, N Ferris for S McGuigan.
Referee - T Walsh.
**
Roscommon - N Fallon; A Moore, P Nolan, P Kenny; C Coyle, E Flanagan, H Rooney; D Heavey, S Curley (0-1'65); C Dolan (0-9, 7f), C Egan, P Kelly (0-2); G Egan, C Mulry (0-2), P Kellehan.
Armagh - S Doherty; P Quinn, A McGuinness, C Rice; D Bridges, C Clifford, T Nevin; S Renaghan, O Curry; D Gaffney (0-1), E McGuinness (0-1), S Toal; N Curry (0-1), D McKenna, D Magee (0-8, 6f). Subs: P McGrane for S Toal, C Lavery for P Quinn, L Woods for D Gaffney.
Referee - T Gleeson.
**
Longford - E Daly; P Corcoran, G Moore, C McLoughlin; B Hanley (0-3, 2f), K Murray, J Casey; P Barden, D Buckley (1-3, 0-2f); J Mulhern, C Mullane (0-4, 3f), S O'Brien (0-1); C Kavanagh, E Naughton (0-2), R Murray (0-2). Subs: D Connell for J Mulhern, A Sorohan (1-0) for S O'Brien, J Mulhern for C Kavanagh, P Leonard for C McLoughlin.
Sligo - K Brennan; T Kelly, J Weir, D Keown; K Banks (0-1), L Reidy, G O'Kelly Lynch (1-7, 0-5f); R Cox, B Shannon; E Comerford (0-1f), K Prior, G Cadden; K O'Kennedy, K Gilmartin (2-0), J Starr (0-1). Subs: T O'Kelly Lynch for E Comerford, J McHugh for K Prior, R McHugh for K O'Kennedy, N McDermott for T Kelly, K Prior for G Cadden.
Referee - J Clarke.
Most Read Stories