Deely welcomes Connacht Championship date move
November 14, 2017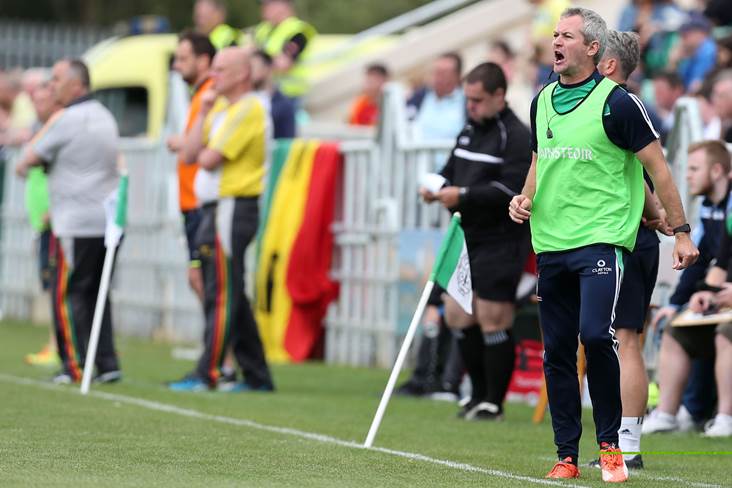 London manager Ciaran Deely.
©INPHO/Gerry McManus.
by Damien Dolan
London football manager Ciaran Deely has welcomed the sweeping change to the GAA season which from 2018 will see the Exiles play their Connacht Senior Football Championship quarter-final on the first Bank Holiday weekend in May.
Traditionally the fixture has taken place on the second Bank Holiday weekend of May, but in line with Croke Park's move to condense the season, the Exiles will next year welcome to Sligo to McGovern Park on the weekend of 5/6 May.
It's a change which Deely's believes will aid London's championship preparations by shortening the gap between the Exiles' final Division 4 league fixture and the Connacht SFC quarter-final.
This year, the Exiles played their last league fixture on 2 April before entertaining Leitrim on 28 May. A gap of eight weeks.
From 2018, that gap will shorten to six weeks between London's final Division 4 fixture against Waterford on 25 March (assuming they don't make the final) and the visit of Sligo.
"It's a positive because that period seems to drag between the end of the league and the championship and it's unnecessary. So we're happy," Deely told the Irish World.
"It [the gap] was just too long. You're in the games programme of the league and then all of a sudden it goes a bit flat for a few weeks, and then it has to be built back up again. Next year we will be able to continue on at the same level."
Part of Croke Park's changes will also see the month of April given over exclusively to the clubs. Deeply doesn't foresee any problems. 
"I would foresee them [London's players] playing two club games the first two weekends of April and then going on a training camp with us for the final two weekends. I think that would be fair enough for both the clubs and the county, as well as the players," he added.
"Over the last two years the players have been available to their clubs whenever they're needed. I don't think they've missed a league game for their clubs. That's fairly unique nowadays within the GAA.
"We believe the players should be available to their clubs as much as possible. I hope the clubs recognise that and will continue to work with us."
Most Read Stories