"It was at the tail-end of something"
February 11, 2020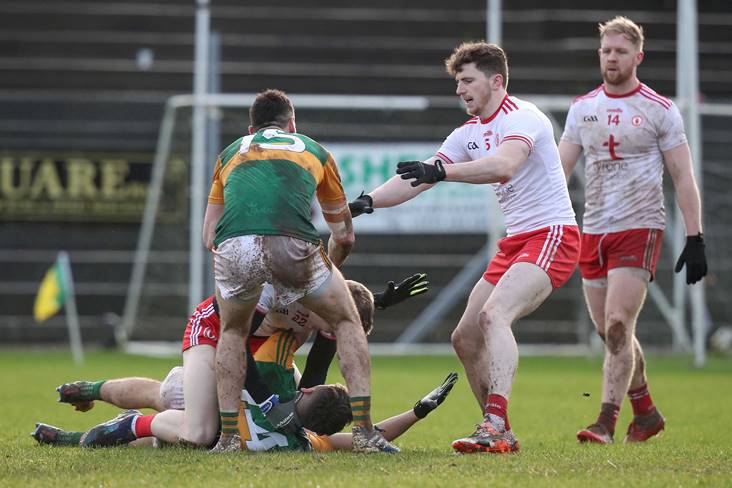 Tyrone's Ben McDonnell and David Clifford of Kerry scuffle on the ground. ©INPHO/Bryan Keane.
Vinny Corey has suggested that there could have been more to the David Clifford sending off than meets the eye.
Kerry's young captain was contentiously sent off during the Kingdom's one-point defeat to Tyrone at Edendork on Sunday, picking up a second yellow card after a coming together with Red Hands substitute Ben McDonnell.
While television footage shows the Fossa clubman holding his hands out to protest his innocence as he is knocked over and pinned to the ground, Corey points out that the cameras may not have captured who or what instigated the incident:
"When the camera angle switched to Clifford, it looks as though it was at the tail end of something. He seemed to be holding his hands up, he was dragged to the ground. In that instance he looked completely innocent," the former Monaghan defender told RTE 2FM's Game On.
"We were at the mercy of the camera there. We didn't see what happened before that, but you'd like to think - it happened right in front of the umpires and a bit of common sense - if he was completely innocent in defending himself, you'd think the umpires would be able to spot that."
Most Read Stories