Memorable moment: This date 18 years ago
June 29, 2020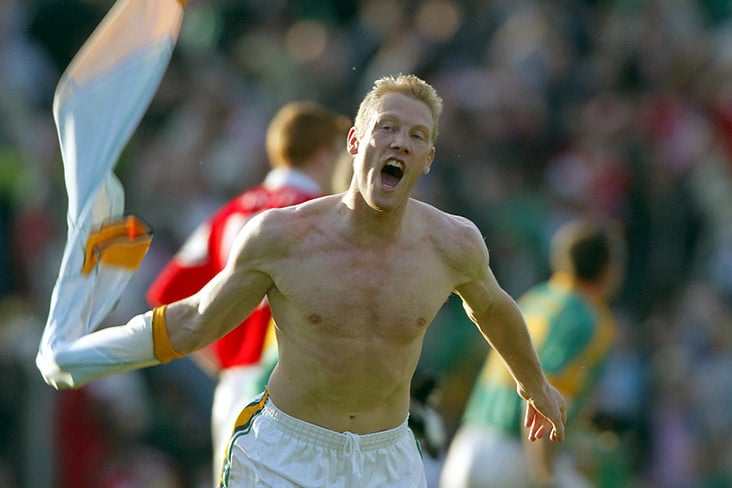 Graham Geraghty celebrates his last minute winner against Louth at Pairc Tailteann
This date 18 years ago Graham Geraghty sent a packed Pairc Tailteann wild with joy with a last gasp goal against Louth in round 2 of the All-Ireland SFC Qualifiers.
It was Meath's first taste of the qualifiers after defeat to Dublin in the Leinster semi-final the week before.
Since the introduction of the qualifier system, teams that had been beaten on the previous Sunday had proved to be vulnerable and so it was that Louth arrived in Navan with high expectations. With former Walterstown player Paddy Carr in charge they were not lacking in knowledge of Meath's strengths and weaknesses.
The atmosphere was superb as the teams took the field in front of an almost capacity crowd. The first half exchanges were evenly contested and at half time in a tense match it was all square at six points each.
Louth received a hugh boost within seconds of the restart when Ollie McDonnell scored a brilliant goal and Meath's reply was a couple of wides. The omens were not good and Louth began to look the more likely winners.
Substitute Richie Kealy was eventually to emerge as the unlikely hero for Meath. Having played poorly against Dublin, he kept Meath in touch with a superbly taken goal at the end of a fine passing movement that also included Graham Geraghty and Ollie Murphy. Louth went ahead again but Hank Traynor equalised before JP Rooney sent Louth supporters into raptures with his team's second goal.
With three minutes remaining Mark Stanfield scored a great point to put the Wee County four ahead, surely Meath were on their way out of the championship. With time ticking away Trevor Giles and Nigel Crawford combined for Richie Kealy to score his second goal but it looked a case of too little-too late.
Deep into injury time Meath were still trailing when Ollie Murphy, whose injury again caused him to start on the bench, won possession out on the right wing at the hospital end. The Carnaross maestro took full advantage of some naivety in the Louth defence before passing to Graham Geraghty who could have done what most players would have done … stuck it over the bar for an equaliser. But Geraghty is on ordinary player and he placed the ball in the corner of the net for the most dramatic of winning scores, certainly comparable with Kevin Foley's goal against Dublin in 1991.
The full time white went with the scoreboard reading 3-8 to 2-9 in Meath's favour.
Meath: Cormac Sullivan, Mark O'Reilly, Darren Fay, Cormac Murphy, Paul Shankey, Hank Traynor 0-1, Paddy Reynolds, Nigel Crawford 0-2, John Cullinane 0-1, Evan Kelly 0-1, Trevor Giles 0-2, Nigel Nestor, Ray Magee 0-1, Graham Geraghty 1-0, Donal Curtis. Subs: Richie Kealy 2-0 and Ollie Murphy
Most Read Stories