Number 2 pick: Club football team of the decade
May 20, 2020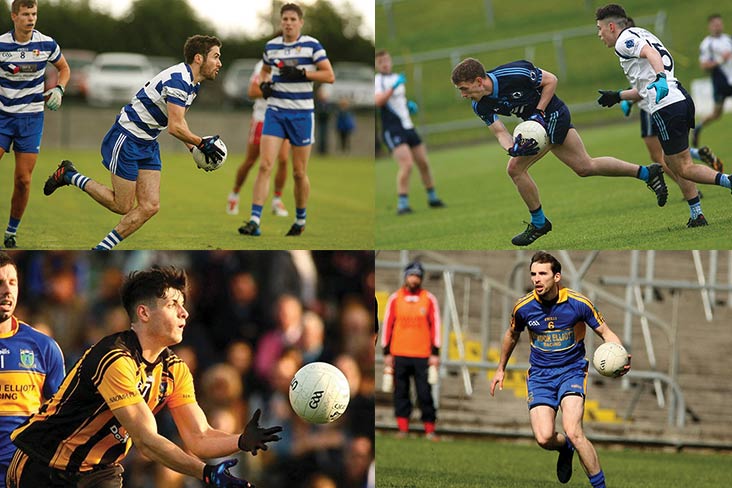 James Reilly, Shane Gallagher, Davy Dalton and Seamus Lavin
Number 2 pick: Club football team of the decade
Meath club football has been renowned for producing some outstanding players that would hold down a place on any team in the country.
Royal County Meath Yearbook has acknowledged these talented players every year when picking the Football Team of the Year.
With no resumption of action on the horizon due to Covid-19 we will with your assistance pick our Club Football Team of the Decade taking one position at a time.
Players picked in that position since 2010
2010 Mark Jordan Skryne
2011 Davy Dalton Summerhill
2012 Stephen O'Toole O'Mahonys
2013 Stephen O'Brien Ratoath
2014 Conor Carton Donaghmore Ashbourne
2015 James Reilly O'Mahonys
2016 Shane Gallagher Simonstown
2017 Shane Gallagher Simonstown
2018 Seamus Lavin Dunboyne
2019 Shane Gallagher Simonstown
Amazingly Shane Gallagher has been picked in this position on three occasions. The Meath star faces tough competition from a host of very good defenders including county comrade Seamus Lavin. Davy Dalton was named at corner back in 2011 but in recent years has been deployed, to great effect, as a third midfielder for Summerhill.
Make your choice on our facebook page
The story so far
Goalkeeper: 2010 Cillian Comaskey Carnaross, 2011 Tony McDonnell Summerhill, 2012 Marcas Brennan O'Mahonys, 2013 Shane Geraghty Na Fianna, 2014 Jack Hannigan Donaghmore Ashbourne, 2015 Marcas Brennan O'Mahonys, 2016 Robbie Burlingham Simonstown, 2017 Liam Hogan Curraha, 2018 Cian Flynn Dunboyne, 2019 Shane Duffy Ratoath
Most Read Stories