MFC Div 3A: Goals win it for Tones
August 15, 2019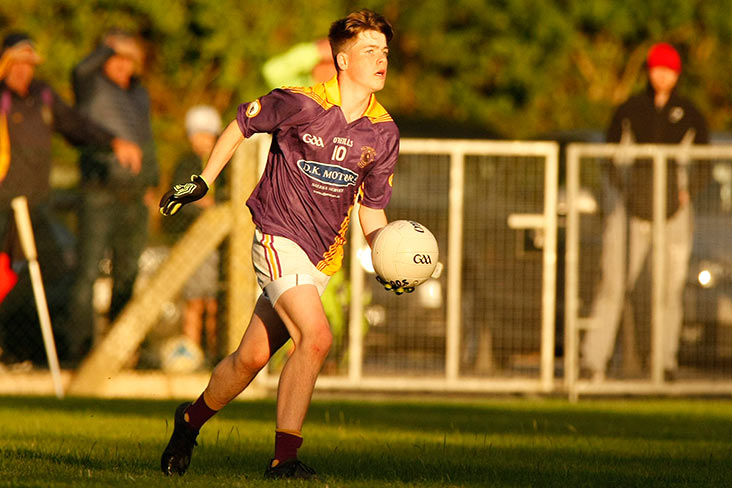 Wolfe Tones Joseph Smith
Wolfe Tones 6-11 Bective/Dunsany 3-13
Deirtear gur cúíl a bhuann cluichí agus b'amhlaidh an scéal I Cill Bhearraigh anocht.
Bhulf Tón faced off against the combination of Bective Dunsany this evening in a cool Kilberry. The amalgamated side started the brightest and implementing a clear plan to run the ball through the hands raced into a 5 point to two lead after 12 minutes. Sean Penny scoring a superb point on the run in this period for the Tones. Bective/Dunsany then latched on a goal as the Tones defence got sucked out the field and the Bective/Dunsany boys were 1-5 to 0-2 ahead after 17 mins.
However the Tones men didn't panic & began to up their game, particularly in the centerfield and frontal divisions, this resulted in a superb 5 minute spell in which the Tones scored 1-2 to bring themselves right back into contention. Kyle Moran finishing well in this period. Bective/Dunsany responded with a couple of points but the Tones boys had found their mojo. Direct running combined with quick hands resulted in two goals in the 27th & 28th minutes from Evan Corrigan & Joseph Smith respectively.
Scór Leath-ama – Bhulf Tón 3-7 – Beighthigh/Dún Samhnaí 1-8
The second half witnessed Bective/Dunsany come out with a renewed effort & they scored an early point which quite easily could have been a goal. Up front the Tones were continuing to cause problems with their pace and 3 goals in the first 19 minutes of the half by Oisín Martin, Sean & Alex Penny sealed the fate of the Bective/Dunsany side. Sean Penny's goal deserving a mention as he showed blistering pace to travel from his own 40 yard line to plant the ball in the opposition net. Bective/Dunsany kept bringing the fight to the Tones and created goal chances but some great goal keeping from Conor McKeever kept them at bay and the Tones ran out 6-11 to 3-13 winners.
This was a good all round team performance from Bhulf Tón with credits to the Penny Bros, Conor McKeever and Evan Corrigan. The next round awaits as the autumn rolls in. CLG Bhulf Tón Abú.
Bhulf Tón: Conor McKeever, Sean Murray (0 01), Eoin Donegan, Peter Carroll, Sean Penny (1 01), Ciarmhac Ó Fionnagáin, James Carroll, Oisín Martin (1 01), Kyle Moran (1 00), Scott Corrigan, Shane McGarry (0 03), Joseph Smith (1 01, 1F), Alex Penny (1 02), Evan Corrigan (1 01), Rioghan Ó Beaglaoich (0 01)
Subs - Odhran Clarke for Scott Corrigan, Adam Stapelton for Rioghan Ó Beaglaoich
Most Read Stories