SFC: Dylan's strike decisive as O'Mahonys shock Gaeil Colmcille
August 15, 2019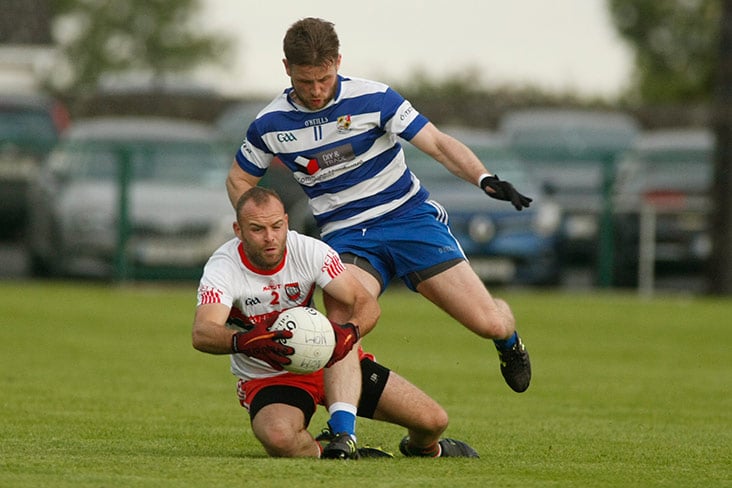 Gaeil Colmcilles Paul Tormey with Alan Forde Navan O'Mahonys during the Meath SFC clash at Ballinlough
Dylan Regan's 44th minute goal was the difference as Navan O'Mahonys surprised Gaeil Colmcille in this rescheduled round three tie at Ballinlough on Wednesday night.

Navan O'Mahonys ........... 1-11
Gaeil Colmcille ............... 0-11

Saturday's original fixture was rained off. Here 2007 All-Star Stephen Bray provided the assist for the only goal of the hour and chipped in with four points from play.

That score left it 1-9 to 0-10 and Kevin Reilly's men took that slender advantage to the finish.

Points from Regan and Bray moved O'Mahonys four points clear in the final quarter and sustained them against a late Gaeil Colmcille onslaught.

In arrears by 0-7 to 0-8 at the break having faced a strong breeze, the Kells-side looked well placed to post their third win from three in the campaign.

Gaeil Colmcille were chasing their fourth senior competitive win over O'Mahonys this year. Wins in the Feis Cup, the round robin stage of the FL Division 1 and recently in the FL Division 1 final, where they were particularly impressive, suggested success here.

Moments after resumption, Seamus Mattimoe leveled matters for the fourth and final time.

Two Brian Hanlon points (one 45) left it 0-10 to 0-8 with 35 minutes gone. Gaeil Colmcille didn't score again until Mattimoe's 59th minute point trimmed the deficit to a goal.

Hanlon's stoppage time attempt to engineer a leveling goal from a free came to nought in the last action of a nail-biting finale.

O'Mahonys opened with three points when playing towards the road goal including a Bray brace from play.

On a top class pitch, that hosted a few games since Saturday's heavy rain, Gaeil Colmcille gradually reeled in wind-assisted O'Mahonys. A long range Hanlon free, into the wind, was one highlight. Fionn Reilly's run that set Hanlon up for the first leveling score was another.

Two Oisin O'Brien efforts (one free) earned O'Mahonys a slender interval advantage that didn't look sufficient to prevent falling from a second defeat of the campaign.

The outcome was O'Mahonys' second win from three starts, leaving them and Gaeil Colmcille tied on four points along Skryne and group leaders Dunshaughlin.

While the Brews Hill side savour this win, they are conscious they face Dunshaughlin in their next outing on the weekend after next. In the same round Gaeil Colmcille take on Skryne.

Scorers: O'Mahonys - Oisin O'Brien 0-5 (4fs), Stephen Bray 0-4, Dylan Regan 1-1, Darragh Maguire 0-1. Gaeil Colmcille - Brian Hanlon 0-4 (1f, 1 45), Seamus Mattimoe 0-4 (2fs), Fionn Reilly 0-2, Conall Courtney 0-1.

Gaeil Colmcille - Justin Carry Lynch; Paul Tormay, Barry Smith, Adam Muldoon; Conall Courtney, Jonny Quigley, James Reilly; Fionn Reilly, Oisin Reilly; Evan Sheridan, Martin Barrett, Liam Ferguson; Seamus Mattimoe, Ryan Farnham, Brian Hanlon. Sub - Cormac Keegan for Ferguson (41).

Navan O'Mahonys - Marcas Brennan; James O'Reilly, Niall McKeigue, Mikey O'Reilly; Gary O'Brien, Darragh Maguire, Brian Dillon; Niall McGrane, Conor Finnegan; Cathal Smyth, 'Alan Forde, Duggie Dillon; Dylan Regan, Stephen Bray, Oisin O'Brien. Subs - Cormac McGuinness for Forde (34), Patrick Leahy for D Dillon (43), Ruairi O Coileain for B Dillon (bc 51), Aodhan Mallon for Regan (59).

Referee - Cormac Reilly (St Mary's).

Prior to the game a minute's silence was observed in memory of Dorothy Leahy (mother of O'Mahonys' player Patrick Leahy), Michael Leddy and Joe Murphy (Gaeil Colmcille) who died recently.
Most Read Stories