MFC Div 5 Preview: Rathkenny's to lose
August 14, 2019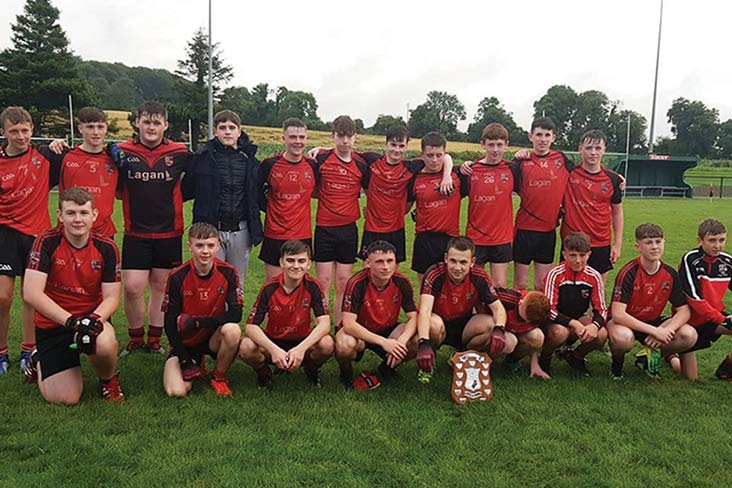 Rathkenny celebrate their Minor Summer League success
Division 5 – Blackhall Gaels, Inny Gaels, Moynalvey/Boardsmill, Oldcastle, Rathkenny
In Division 5 the top two sides will progress directly to the final. The third placed side will go direct to the Shield final while the teams in fourth and fifth place will contest the Shield semi-final.
Blackhall Gaels – It's great to see the Batterstown/Kilcloon outfit back fielding on their own at the Minor grade in recent times after a spell joined with Moynalvey as Jenkinstown Gaels. They did well in the Spring League without setting the world alight but then had a solid campaign in the Summer League.
Much will depend on their ability to get all their key players on the pitch as when they lose a few bodies they wouldn't have huge numbers for replacing them.
Inny Gaels – Numbers will be tight for Inny Gaels as the rural areas of Ballinacree and Moylagh wouldn't be blessed with a big population. But what they lack in size they more than make up for in passion and they won't be found wanting when it comes to pride in the jersey.
Whether this will be enough to see them progress to the final is unlikely, but they have the ability to take a scalp somewhere along the line.
Moynalvey/Boardsmill – Like most teams in this division they could struggle for numbers on occasion although with Boardsmill not taking part in this years MHC then their players will be giving the big ball their full attention.
This could be key as the team possesses a lot of talent and in Niall Bagnall, they have a player capable of producing a moment of magic out of nothing.
Oldcastle – It's not often a team with two Meath Minors find themselves in Division 5 but this is where Oldcastle find themselves for the MFC when only a few years ago they were contesting the upper grades and last year were in the Division 3 decider against Summerhill.
Darren Connell and Pearse Sheridan can have a big impact for them and fire Oldcastle to the final.
Rathkenny – Didn't have a Minor side in 2018 and didn't take part in the 2019 Spring League, something which suggests all isn't right in Rathkenny. They did though rally the troops for the Summer League and according to well placed sources were excellent in the Roinn F final when they defeated Dunderry.
David Curtis is a forward well capable of pointing off left or right while Will Gore and Charlie Cullen are two players well able to showcase their undoubted ability. Then you have the mercurial talents of Darragh Timmons who can light up this Championship. All in all, it looks like a potent mix.
Predicted finalists – Rathkenny and Oldcastle.
Predicted winners – Rathkenny.
Predicted Shield Contestants – Inny Gaels, Moynalvey/Boardsmill, Oldcastle.
Most Read Stories