MFC Div 2 preview: Who will take home the Liam Tolan Cup?
August 14, 2019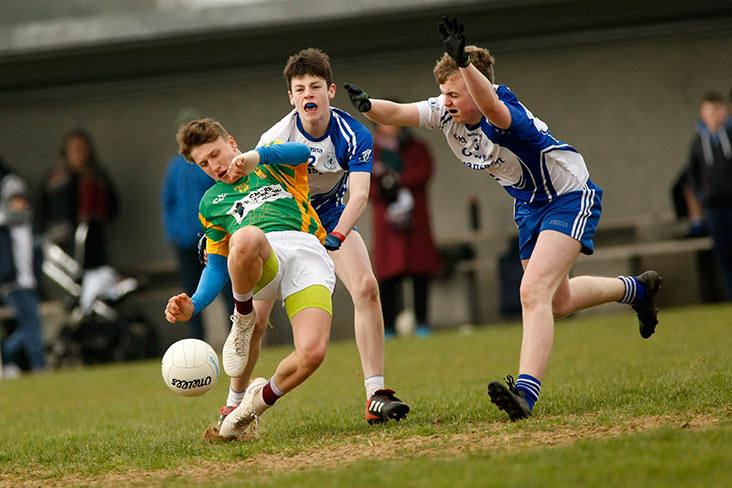 St. Vincents/Curraha and Kilmainhamwood contested the MFL Division 3 final.
The opening round of the LMFM Division 2 MFC gets underway tonight. Eight teams will compete for outright honours.
Division 2 – Dunshaughlin, Drumconrath/Meath Hill, Kilbride, Kilmainhamwood, Navan O'Mahonys, St. Patrick's. St. Peter's Dunboyne, St. Vincent's/Curraha.
Division 2A – Dunshaughlin, Drumconrath/Meath Hill, Kilbride, Kilmainhamwood.
Dunshaughlin – Winners of this competition in 2018, Dunshaughlin are looking to make it two in a row this year and will come into it in confident humour after topping Roinn C in the Summer League before losing out in the final to Navan O'Mahonys while in May the Dunshaughlin U-16 side won the Division 1 League in Páirc Tailteann.
In John McDonagh they have a forward who is capable of troubling any defence on his day while in that U-16 final Conor Gray lorded the midfield proceedings. If he can help his side gain the upper hand around the middle of the pitch, then they have the firepower up front to win most games.
Drumconrath/Meath Hill – The youngsters from the Cavan/Monaghan/Louth border region lost out to Seneschalstown in the Spring League but found the going tougher in the Summer League when finishing bottom of Roinn B. A big challenge they have is a small playing pool as was in evidence in the Spring League final when they lost a few players to injury and hadn't enough bodies on the bench to finish with fifteen players.
In Harry Corscadden they have an excellent defender, but his Meath Minor colleague Conor Owens is rumoured to be out injured for the Championship and if this is true then he will be a massive loss to the team. Matthew Durnin and Alan McCloskey are talented forwards but with numbers being tight then the team may find the going tough.
Kilbride – One of the shining lights in the county when it comes to the work being put in at juvenile level, Kilbride have small numbers but punch above their weight almost every year and also boast one of the best playing surfaces the county has to offer.
They may find the going tough, but Kilbride can never be written off and with three players on the U-16 Development Panel in Andrew McWeeney, Ben Donnelly and Zac McGovern they have a trio of very talented operators. Having two of their three games at home will also be a big help as they look to spring a surprise and qualify. You can never rule them out.
Kilmainhamwood – Having had to join with Drumconrath/Meath Hill as North Meath Gaels in the 2018 Championship, twelve months on they now find themselves in the same group as their former teammates. This is a testament to their ability to keep this talented group of players together.
Brian Cassidy and Jamie Fagan represented the club when donning the county jersey for the Minors this year and along with the physically imposing Kian Gillespie, they will be the key operators for the 'Wood. The Spring League Division 3 finalists will be underdogs in most games, but this is a task they'll relish.
Division 2B – Navan O'Mahonys, St. Patrick's, St. Peter's Dunboyne, St. Vincent's/Curraha.
Navan O'Mahonys – Football is the last thing on the minds of youngsters in Navan this week after they laid their friend and teammate Mikey Leddy to rest but when the time comes for the O'Mahonys side to get their Championship campaign underway they will enter it as one of the favourites for outright success. In Damien Moran they have an astute manager who will have been pleased with their excellent performance in winning the recent Roinn C Summer League final.
Shane McCarthy and Dan McEvoy are two of their very talented side and McCarthy when he gets an inch of space is liable to take a mile. If they can get up and running with an early win the confidence levels will rise and when their tails are up an O'Mahonys side can never be ruled out.
St. Patrick's – A club who would relish the boost a Minor trophy would give them, St. Patrick's are an outfit who should soon be experiencing an upturn in their fortunes at this level as the Celtic Tiger generation who have grown up in the rapidly expanding area grow up.
Will they achieve Division 2 glory this year? On the form they have shown thus far this year it's difficult to see it, but should they overturn St. Vincent's/Curraha in Round 1 then anything is possible as momentum in sport can be key.
St. Peter's Dunboyne (A) – As they unveil impressive development plans this week, the strength in depth of the Dunboyne club is further exemplified by the fact they've two teams lining out in the Minor Championship and both in with realistic chances of bringing home the silverware.
With Shane McEntee as one of their coaches, this is an impressive outfit who could consider themselves very unlucky to lose out to Seneschalstown in the Spring League when they lost their way in the second half after putting in a good showing in the opening thirty minutes. Ciaron Lonergan, Jamie Dowdall and Cathal Melia are three names to watch out for.
St. Vincent's/Curraha – There's something brewing in these clubs at the moment with St. Vincent's flying in the Junior Championship and Curraha after taking the scalp of Simonstown in the Senior. Can their combined Minor side keep the feel-good factor going?
After winning the Division 3 Spring League they will see no reason why they can't push on and claim the honours in Division 2. Matthew Webb and Gary Tuite are two smart defenders while Diarmuid Moriarty is a richly talented player further upfield.
Predicted semi-finalists – Dunshaughlin, Kilmainhamwood, Navan O'Mahonys, St. Peter's Dunboyne
Predicted winners – St. Peter's Dunboyne
Predicted Shield Contestants – Drumconrath/Meath Hill, Kilbride, St. Patrick's, St. Vincent's/Curraha
Most Read Stories